By
Phil
- 16 August 2013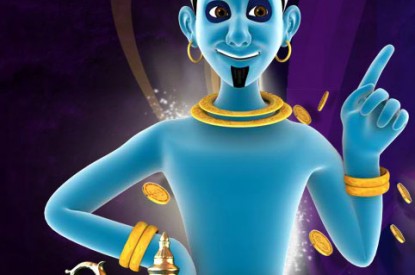 888.com has now launched  its new and improved 888casino.com 3d Animated Millionaire Genie Jackpot Slot.
To continue with 888casino.com's upgraded personalised software offering, it has released another unique slot game. The dynamic Millionaire Genie Jackpot Slot features several 3D animated elements, including a very funny and charismatic Genie character.
Due to the popularity of the 888casino.com Millionaire Genie slot, the progressive Jackpot is now over £2,000,000! To celebrate this cutting edge slot and giant jackpot, 888casino.com has launched a full coverage campaign promoting the Genie and chance to win big!
Starting August 15 the Genie will be popping up everywhere in the UK, including a new TV ad (seen here), taxi campaign and a wish promotion for its fans on Facebook. The cheeky Genie will also be having a bit of fun with some 'out of the box' wishes involving well-known UK celebs, so be on the lookout.
The promotion supporting the New Millionaire Genie Slot launch offers new players in the UK £88 free to play 888casino.com and try for the opportunity to win over £2m.