By
Phil
- 30 January 2014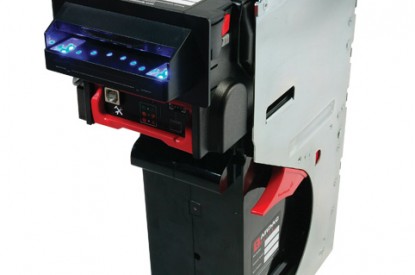 Crane Payment Solutions full range of brands will be on display at ICE in London in February, including the Money Controls Ardac Elite and CashCode one bill validators, the NRI v2 eagle coin acceptor and the Money Controls Universal Hopper.
The Money Controls Ardac Elite has field-proven state of the art imaging technology to ensure the highest standards of validation. Its performance is a result of its advanced image capture and data processing technology that monitors 200,000 data points for every bill inserted, looking at the complete note. This means increased security and very high acceptance rates, accepting 'street money' in virtually any state, and inserted at virtually any angle.
Benefits of using the CashCode One include: a universal design to accept all currencies; one single hardware platform to reduce support and operation costs, and flexible architecture with multiple options and configurations. The CashCode one also has advanced sensor technology which scans both sides of the bill, thereby optimising recognition. Its self-centering transport guides adjust automatically to perfectly align bills or barcodes of different widths, even when fed in at an angle. The CashCode One also comes with oneCheck cash management and accountability solution.
The NRI v² eagle coin validator is setting standards within the payment systems industry. By using the unique MFT validation technology and additional sorting control sensors, outstanding coin security is guaranteed. The v² eagle features simultaneous evaluation of 24 measurement parameters for 32 coin channels, as well as an anti-jam sensor for fast coin insertion. The flexible approach of the eagle means it comes with top and front coin entry, and a range of sorters.
Also on display will be the Money Controls Universal Hopper. The best-selling Universal Hopper has sold millions worldwide since launch, and offers unrivalled performance and reduces operating costs. As with all Crane Payment Solutions' products, the Universal Hopper provides excellent resistance to fraud and is now one of a range of products available with AES encryption.