By
Phil
- 13 February 2014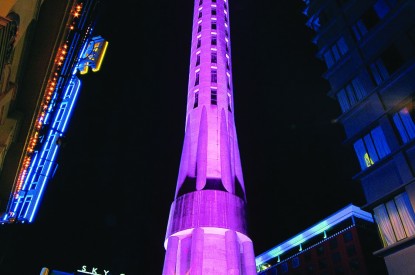 New Zealand operator SkyCity Entertainment blamed a fall in first-half profit fell on the New Zealand dollar's strength against the Australian dollar, but remained overall optimistic about the year's outlook.
First-half net profit dropped to NZ$61.1m (US$50.1m) in the six months to December 31, from NZ$66.3 million in the year-earlier period.
SkyCity Chief Executive Nigel Morrison said that while 1H14 had been a challenging period due to the high New Zealand Dollar and continued soft consumer spending on both sides of the Tasman, solid progress had been made in establishing the platform for growth and the outlook for 2H14 is encouraging. "The first half of 2014 has seen SkyCity make significant progress in securing future growth and certainty with the conclusion of agreements with the New Zealand and South Australian governments on regulatory and taxation concessions," he explained. "We are now actively working to gain the benefit of these concessions as soon as possible. We also entered the ASX 200 for the first time in December 2013."
First half reported profit of $61.1m, is $5.2m lower than that in 2013.  "This is largely due to the currency impact and the loss of $2.3m earnings following the disposal of SkyCity's 50 per cent share in Christchurch Casino for $80m in December 2012," Mr. Morrison explained.
Other significant factors that negatively impacted the first half result included lower turnover during the second quarter of 2014 in international business due to the timing of visits of a number of large players from Asia, a softer 1first half performance in Hamilton, disruption to Adelaide's main casino due to refurbishment, and flat performance in Darwin's core gaming business.
The operator described trading in January 2014 as 'pleasing', with revenues above prior year in all businesses. Normalised revenue in January 2014 was 11.9 per cent above prior year and even including the impact of the strong NZ$, actual normalised revenue is up 5.4 per cent on January 2013.
International business performed well in January, with the last 12 months' turnover reaching $5.7bn, up from $5.4bn at December 2013.
Auckland had a relatively soft month in the prior year, however benefitted from good table games growth and conventions revenues in January 2014, albeit slots was flat.  Adelaide experienced ongoing disruption in the local gaming business, as works on the gaming enhancements continued.  IB was the primary driver of January's revenue growth.  The new Baccarat Pavilion has performed well since opening on 31 January. Queenstown benefitted from additional IB visitation in January, whilst Darwin and Hamilton were relatively flat. February 2014 has also started well, compared to prior year.  In particular, Asian visitation was strong over Chinese New Year and IB LTM Turnover reached $6bn (although CNY is two weeks earlier this year).
Whilst the macroeconomic environment in Australia remains challenging, there are positive factors that management believe will deliver growth in Adelaide and Darwin in 2H14. The New Zealand macro environment is more buoyant with good momentum. As such, earnings growth is forecast across all SkyCity businesses in the second half of 2014.
In New Zealand Auckland revenues fell 2.2 per cent to $258m in 1H14, it is pleasing to see EBITDA margins improved throughout the period following cost reduction initiatives across the business.  The trend in revenues and EBITDA improved through 2Q14 and this has firmed further in 3Q14 trading.
A new high-end VIP EGMs Room, 'Black' was opened in December 2013 and has been well-received.  The new Baccarat room situated in a mezzanine level looking across the main gaming floor is also proving to be popular with its Asian patrons.
Following the passing of enabling legislation for the New Zealand International Convention Centre Agreement in November 2013, SkyCity is working on the designs for the New Zealand International Convention Centre (NZICC) and engaging proactively with the Government and other significant stakeholders. The Concept Design was delivered on schedule to the Government on 13 January.
Hamilton's 1H14 results are softer than 1H13, which benefited from a strong table games performance.  Measures have been taken to address this for 2H14, including a number of improvements to the main gaming floor.  Encouragingly, the 3Q14 revenues suggest that these improvements are starting to take effect.
The management integration of SkyCity's second casino in Queenstown, the Wharf, is now complete, with both casinos being refurbished in the first half of 2014.  International Business growth has improved following the opening of the first Horizon IB Salon.
Over in Australia, Adelaide showed resilience in the first half of 2014, performing relatively well despite challenging local economic conditions, train line closures and significant refurbishments to the main casino which all impacted performance.
Following the conclusion of the agreements with the South Australian Government, the first stages of new Casino development works are complete, with further enhancements ongoing throughout the balance of 2014.  These completed works included an exciting new table games area focussing on Baccarat and featuring an iconic Asian style Pavilion as its centrepiece.  This area opened on 31 January in time for Chinese New Year and a new Platinum EGM room for premium gaming machine customers, which will open on February 14, to coincide with the commencement of the new regulatory and taxation framework.  This room will include 150 EGMs enabled with ticket-in ticket-out (TITO), unlimited maximum bet and jackpots, and will feature new gaming machine product available exclusively at Adelaide Casino, and for the first time in South Australia.
Two further stages of work are being undertaken through the course of 2014, including additional new Premium Gaming areas, upgrading MGF areas and delivering new restaurant and bar concepts.
In Darwin, local and IB gaming revenues have been somewhat disappointing and there is some cost pressure in the Darwin market, which has resulted in softer EBITDA margin in 1H14.  However, the business has shown good non-gaming revenue growth with high hotel occupancy and strong demand for the new Lagoon Resort.  The redevelopment of the resort has been well received and it was awarded "Best Redeveloped Hotel Accommodation" at the Australian Hotels Association Awards for Excellence, in October 2013.
In January 2014, SkyCity Darwin received approval to introduce ticket-in ticket-out (TITO) on all SkyCity Darwin EGMs. This will be implemented across the property throughout 2H14 and should start to have a positive impact on results from the fourth quarter of 2014.
International Business experienced a good first quarter, with turnover up 30 per cent.  SkyCity remains confident that IB turnover will exceed $6bn for the full year, compared to $5.7bn in 2013.