By
Phil
- 6 October 2014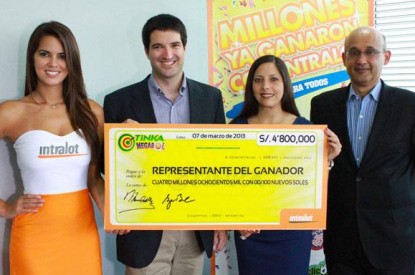 Tinka, the popular numerical game of INTRALOT de Peru, the leading lottery and sports betting company of Peru, celebrates its 20th Anniversary.
In 20 years Tinka has turned 116 Peruvian players, so-called Tinkeros, into millionaires, and has delivered over 478m Peruvian Soles to players.
The most memorable jackpot of Tinka is the one of 2013, in which the game distributed 21m Soles and changed the lives of two lucky winners in the cities Cañete and Yurimaguas. Prior to this jackpot, the largest award was received by a lucky Tinkero from Huánuco, who became the winner of an awesome 14m Soles in 2011.
On the occasion of the anniversary, Intralot de Peru CEO, Mr. Vangelis Apostolakopoulos, commented: "We are very proud to celebrate Tinka's 20th Anniversary: 20 years in which the Peruvian players trusted us, in which we turned many of the players into winners and changed their lives, while generating resources for the support the local communities and various social causes. We appreciate the confidence of the players in Intralot de Peru over these years, and we vow to continue working so that Tinka can continue making dreams come true for many Peruvians."
Thanks to its top worldwide operating standards, security certification and transparency, Tinka has maintained leadership in the Peruvian Market over the last 20 years.
Intralot de Peru will celebrate this anniversary occasion with special promotions during the month of October, offering to even more players the opportunity to become winners with Tinka.