By
Phil
- 21 April 2015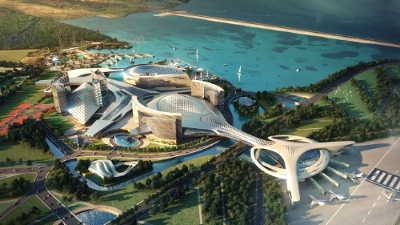 The Mohegan Tribal Gaming Authority operator of Mohegan Sun, Mohegan Sun Pocono and Resorts Casino Hotel, and Incheon International Airport Corporation have signed a memorandum of understanding to develop, build and operate a first-of-its-kind gateway entertainment city in South Korea.
The resort will include a 18,500 sq. m. casino with 250 tables and 1,500 slot machines. The development will include a two-tower luxury hotel complex with 1,000 guest rooms, which will be split between 300 6-star rooms and 700 5-star rooms. It will also have the first and only private jet terminal (FBO) in the world connected to an integrated casino resort; The venue will boast more than 18,500 sq. meters of retail, food, art and music entertainment experiences, including a Korean village celebrating Korean food, and music, state of the art motion picture and film studio, and a Native American cultural and arts experience.
There will also be an entertainment arena with 20,000 seats and an Indoor-Outdoor amusement park with 18,500 sq. meters of the latest high-tech amusement rides and more than 12 outdoor attractions.
The integrated hotel-casino resort will feature world-class entertainment and hospitality attractions, as well as the only casino-resort anywhere connected to a fixed-base private aviation operation (FBO). The proposed resort would be developed on the grounds of Incheon International Airport, the 8th largest international airport in the world which serves more than 45m annual visitors.
According to the terms of the MOU, the Authority and IIAC will enter into exclusive negotiations on a conceptual agreement for developing an 800-acre parcel of land owned by IIAC into a world-class, integrated entertainment destination. The MOU outlines a framework for a conceptual agreement on the project, with the goal of signing a finalized concept agreement by June 30, 2015 and a scope of work proposal by the end of the year. Upon its completion, the integrated hotel-casino resort will cement Incheon Airport's position as one of the best airports in the world and create an epicenter for Korea's growing entertainment, tourism and hospitality industry.
"We are pleased to have reached this monumental agreement with Incheon International Airport Corporation, which is a testament to MTGA's performance and ability to develop and operate premier, world-class assets at the highest level," said Bobby Soper, President of MTGA. "We look forward to extending the unique Mohegan Sun brand, focused on unparalleled hospitality and guest experience, to Korea and providing a new, global customer base at a one-of-a kind, must-visit destination. We have tremendous respect for IIAC and are excited to partner with Mr. Park Wan-su to build on the strengths of our two organizations and create the leading, first-of-its kind offering for travelers across the world."
President and CEO of Incheon International Airport Corporation, Park Wan-su, said: "This project is an important step in Incheon Airport's continued efforts to become a global mega-hub airport, delivering passengers the highest quality service and serving as the best airport in the world in all aspects of our operations. It was critical to identify the right partner for this historic development and Mohegan Tribal Gaming Authority's performance track record as a developer, operator and ability to attract world-class entertainers speaks for itself. We look forward to working with MTGA to finalize an agreement on the proposed project and further enhancing Incheon's services with the support and collaboration of our 40,000 employees."