By
Phil
- 6 December 2017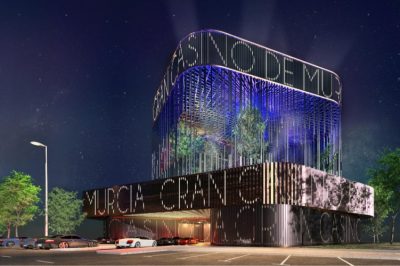 Spanish operator Orenes Group, has been given approval from the Department of Urbanism and Environment to start construction of a new home for its casino licence in Murcia.
It will transfer its existing casino licence to a new facility covering 11,600 square meters over three floors by the end of 2018.
With an investment of around €18m Spanish gaming operator, Grupo Orenes, is preparing to start the construction of a new casino in Murcia.
The casino, which is currently located in the Hotel Rincón de Pepe located in the northern area of the city, will be moved so that it will be part of a much larger entertainment and leisure facility in the city centre. The design concept behind the new building will be to blend the modern and avant-garde styles of Monte Carlo and the beach resort of Estoril in Portugal. The term of completion of the project is approximately one year and the company hopes to have completed building work by the end of 2018.
The 1,200 square metre ground floor will be dedicated to the casino and will offer sports betting, as well as slot machines, table games and poker. One section of this floor will lead onto a 200 square metre terrace. In addition, this floor will also house a restaurant and bar as well as a more than 400 people capacity multipurpose room.
The first floor will be for used for the auxiliary uses of the entire complex with changing rooms, toilets, rest areas, warehouses and offices. In addition, there will be another multipurpose 350 people capacity room. Meanwhile, the second floor will house the hotel with a restaurant and a large garden terrace.
The building will also have two basements that will span 7,000 square meters for warehouses and a car park for underground vehicles with 190 spaces. The transfer of the casino to its new location will increase the leisure offer in the area significantly and should attract visitors from bordering provinces such as Alicante, Albacete and Almeria.
The casinos' design, the brainchild of the Clavel Arquitectos studio, aims to become an icon of the area being located on one of the main roads into the city. The building will be developed with the latest technology in energy recovery and LED lighting.