By
Phil
- 6 November 2018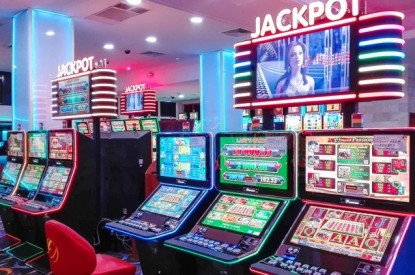 Yet another operator in Suriname has recognised the advantages of Euro Games Technology's products after a previous installation of the jackpot systems Egypt Quest and Cat 4 Cash.
Satisfied with the performance of both models Das Game NV has now chosen another 99 machines from EGT for its Casino Elegance in Paramaribo, widening the range of its equipment with latest developments of the manufacturer.
EGT has supplied three Super Premier 75 cabinets to diversify the offerings of the casino in a distinctive way, adding high-end technologies with the "wow" effect with its curved 75-inch display. Together with the P-42V St Curved slot machines it will rely on the latest generation platform of EGT – Exciter III, capturing the attention also with its elegant frameless glass design.
"Our customer appreciated the innovative approach, used in Super Premier 75. Undoubtedly it is one of our most standing out products," shared Nadia Popova, Director of EGT for Central America, the Caribbean and Mexico. "The Curved cabinets are also gaining momentum in Suriname and are a perfect addition to Das Game's establishment, known for its high-level of service and guests, apt to enjoy the latest gaming achievements."
Already widely popular with players in Latin America are the slot models P-24/24 Up and P-27/27 St Slim, preferred for their ergonomic design and ability to fit to different casino interiors. Around 30 machines of both models have now found their new home at Casino Elegance, ready to make it even more preferred destination for the gaming aficionados. Part of the current installation is also the P-27/32H St cabinet, featuring a 27-inch widescreen touch display and a 32-inch LED-illuminated landscape top box. The already present in the casino 4-level progressive jackpot systems Egypt Quest and Cat 4 Cash have also increased the number of their P-24/32V Up cabinets on the floor.
According to Mrs. Popova there will be further opportunities for new successful installations at Das Game's establishments in the future.
She also added: "Suriname is one of our major markets in South America. We are partnering with all key operators in the country and have so far reached a market share of 60 per cent. Among our priorities for the year, apart from the installations of our already popular cabinets, will be the launch of new slot models, as well as of the EGT Multiplayer's products. So I am confident in EGT's future growth in the region."