By
Phil
- 15 September 2020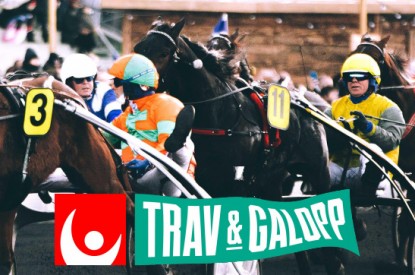 Svenska Spel Sport & Casino has entered into a cooperation agreement with the French PMU and is launching Svenska Spel Trotting & Gallop, a new gaming category with games in French and international horse racing. In the daily high-winning game High Five, Swedish customers will be able to play straight into the French pools.
Svenska Spel Sport & Casino continues to develop and improve its offering of sports betting and has signed an agreement with the French gaming company PMU. In connection with this, a new game category is launched, Svenska Spel Trav & Galopp. Through the new agreement with PMU, Svenska Spel Sport & Casino will be able to offer its customers a full-scale range of games on horses from all over the world. On September 21, the gates to Svenska Spel Trav & Galopp will open with the daily high-profit game High Five as the crowning achievement.
Helena Hallman, Product Manager Racing, Svenska Spel Sport & Casino, said: "We are very happy to finally be able to present the collaboration with PMU which makes it possible for us to offer Europe's largest daily horse games to our customers. It feels incredibly fun and exciting. Within the framework of the collaboration, we can offer fast and fun games every day, it is simply high-class equestrian sport with Europe's highest prize pools."
The offer includes the flagship and the daily high-win game High Five, which is most easily played through the quick game PIX !. Duo and other forms of play such as Winner and Place in the French races will also be included in the offer. The collaboration agreement also comes with streaming rights and customers will be able to follow all races live both in store and online.
High Five (also known as Quinté +) is PMU's daily high-profit game where it is a matter of finding the five best placed horses in a race. The highest win in 2019 was 808,174.32 euros for a single winner. In 2019, no less than 367 million winnings were distributed at High Five. Sundays are the big competition day with extra millions in the pot.
"We are very pleased to welcome Svenska Spel Sport & Casino as a new partner within the framework of our international collaborations. We have the same values ​​and are convinced that Svenska Spel Sport & Casino will play a major role in horse racing in Europe. The collaboration will help us offer French horse racing to new customers and help strengthen the image of European horse racing in Sweden," added Aymeric Verlet, International Director, PMU.
PMU (Pari Mutuel Urbain) is a French gaming company that offers sports betting, poker and games on French and international horse racing 365 days a year. The most popular game is Quinté +, which will be launched as High Five at Svenska Spel Trav & Galopp.
Svenska Spel Sport & Casino already offers games on Swedish trotting. The forms of play offered are games at fixed odds where it is possible to bet on about 125 races a week. Among other things, winners and places as well as H2H and H3H are offered. Every day a Challenge coupon is offered for trotting games with the best races that day. It is about 6-8 races per coupon where there are three options for each race.
"At the beginning of 2019, we started sneaking in games at Swedish trotting races and we have seen that the interest from our customers has increased gradually. What we have been missing is a high-profit bet on the horses that we now get through the collaboration with PMU. This is something our customers have asked for, which we are now happy to be able to offer them," Ms Hallman added.
During the autumn and winter, Svenska Spel Trav & Galopp will continue to develop its offering with additional forms of play and services.