By
Phil
- 10 June 2015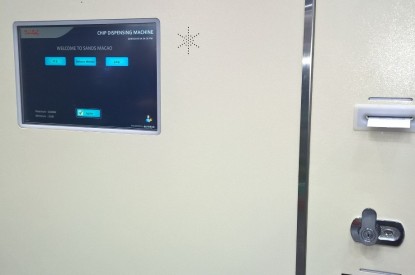 Suzo Happ has introduced a brand new automated solution to dispense gaming chips.
The Chip Dispensing Machine (CDM) is an ingenious secure and efficient self-serving automated chip vending machine.
This voluminous solution incorporates the option to dispense six different chip denominations. It can store an amazing number of chips – up to 1,320 chips in its custom-designed metal enclosure. The CDM contains a great deal of intelligence to inform the user on a complete scale of necessary information. This includes the self-diagnostics feature, sending an alert via email / text message of any potential periphery service requirement (such as when the printer requires restocking with paper or when a chip denomination channel needs to be refilled).
The CDM can be integrated with the casino management system to enable full and instant control. The CDM detailed reports include information on the transaction time, the number and type of chips dispensed, how often and when the door has been opened (by service staff).
"The CDM holds a great deal of benefits", explained Harald Wagemaker, Executive Vice President Sales & Marketing of Gaming and Casino EMEA. "It greatly increases the process of chip change. Naturally we have made use of the industry's best components to accept the cash – so the danger of accepting counterfeit banknotes is practically eradicated. All in all, the CDM benefits staff and players alike and helps to ensure that the games per hour output remains as high as possible."