By
Phil
- 30 August 2013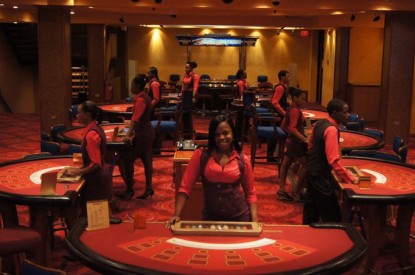 Trinidad and Tobago will move towards regulating its slot and casino sector with the establishment of a Working Group to form draft legislation for the legal and regulatory framework of the gaming industry.
The Ministry stated: "At the request of the Minister of Finance and the Economy, the cabinet has agreed to the establishment of a new legal and regulatory framework for the gaming industry in Trinidad and Tobago."
For many years, Government has been seeking to put in place a regulatory framework to address the social concerns arising out of the proliferation of private member clubs providing casino-style games to club members.
For sound public policy reasons, avoidance of crime, player protection, protection of minors and the promotion of fair treatment for the customer must be integral to the process. The growth in gambling however, would suggest that there is a public demand for gaming services which is gaining momentum consequent on the access of the public to the internet for gaming and gambling purposes."
The Ministry explained that under its current legal framework all casino operations conducted by self–styled private members' clubs and all gaming machine operations excluding the amusement prize categories wherever located, in recreational clubs, in pubs, in arcades and in shopping malls are illegal.
One Industry Stakeholder, the Association of Members Clubs, said there is a strong requirement for oversight of gambling activities. They have expressed the view that the continuation of the status quo leaves unaddressed a number of social problems, including fraud, money laundering, under-aged gambling, criminal activities and unscrupulous operators. Regulation would, on balance, benefit the society with a reduction in social concerns, maintaining employment which at present amounts to approximately 7,000 individuals with an associated weekly wage bill of $6.7m and increased tax revenue from corporation taxes, bearing in mind that in 2012 excise taxes amounted to $28m.
The Ministry added: "The new regulatory environment would provide for a modern and effective system of gaming through legislation which would protect consumers, would protect the vulnerable including minors and problem gamblers and would keep criminal and subversive elements from infiltrating the industry.
The unsatisfactory legal structure of the 1955 Act would give way to a robust governance structure with strict licensing and enforcement arrangements which would achieve the public policy objectives.
Gambling is emerging as a substantial industry in Trinidad and Tobago and with regulation, including a stable tax and business environment, good IT infrastructure and global networks, would continue to create employment opportunities and good quality jobs. Such a development would be consistent with the public policy agenda for creating jobs with high-skill levels."
Related Stories