By
Phil
- 13 November 2017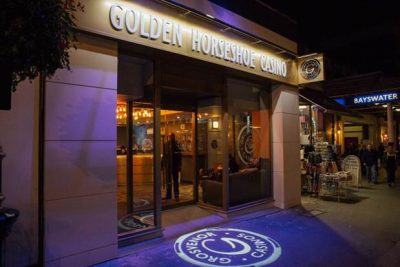 British casino group Grosvenor Casinos has continued its commitment to upscaling and refurbishing its casinos with a £1.5m investment in its Bayswater branch, otherwise known as Grosvenor Casino, Golden Horseshoe.
The casino is dedicated to providing guests with the best in class casino games, a dedicated sports lounge, menu of sharing platters and online sports betting with grosvenorsport.com, all in a relaxed yet luxurious atmosphere. The Golden Horseshoe refurbishment was officially unveiled last night to a crowd of West London VIPs, journalists and sports fans. Showing off its new look, guests were treated to canapés, welcome drinks, magic tricks from a mind-boggling magician and music from violinist, Kate Chruscicka.
To mark this exclusive re-launch, Grosvenor Casino Golden Horseshoe has kicked off a series of events entitled 'Have a beer with…'. One night per month a sporting legend will give a live Q&A about their career from the new sports bar. First up was ex-Southampton player, Matt Le Tissier, who lavished guests and fans with stories of his career; the highs, the lows, playing for England and 'that' goal over Peter Schmeichel.
As part of the refurbishment and to match the exclusivity of the area and increasing number of high stakes players, Grosvenor Casino Golden Horseshoe now also boasts a sophisticated VIP area where players looking for a more opulent environment can enjoy their gaming in privacy.
Next in the Have a beer with…' hot seat, on 6th December, is Stuart Pearce MBE. Having been both a professional player and a manager, there isn't much Stuart doesn't know about football. Best known for his spell at Nottingham Forest, which he later went on to manage, Stuart regularly captained the team and became the club's most capped International, making 76 of his 78 appearances for England. Stuart also managed the Great Britain Olympic football team at the 2012 Olympics.
The 'Have a beer with…' events will run on a first come, first serve basis and entry is free.
General Manager of Grosvenor Casino Golden Horseshoe, Paul Jones comments: "We are thrilled to be hosting these events at the casino. We're showing off our new sports bar and so what better way that hosting live Q&As with genuine sporting legends? Thanks to the recent refurbishment, the casino now benefits from a huge number of improvements to both our gaming and entertainment offering. We always aim to provide something for everyone and we're confident that the new look casino will not disappoint."
The refurbishment will also include external enhancements, to maximise profile and street presence, LED and additional lighting to create ambiance.
Related Stories