By
Phil
- 16 August 2016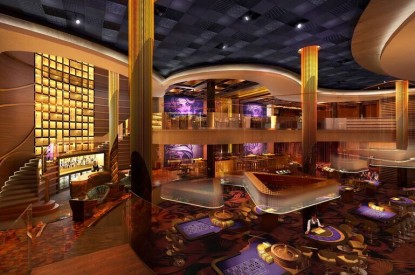 The name and branding for the largest casino in the north of England and Scotland, which will be located in the heart of Leeds city centre, has been revealed as 'Victoria Gate Casino.'
The news comes as the first of more than 200 jobs have been filled at the multi-million pound development which will be the UK's third-largest casino.
The huge entertainment and gaming destination, which is the first and only 'super casino' in the north, occupies 50,000 sq ft and will sit alongside John Lewis at the top of the city's new Victoria Gate development.
With a capacity of 1,400, the Victoria Gate Casino will be one of the biggest entertainment venues in the city when it opens later this year. As well as gaming, it will have wall-to-wall screens for watching sport, a restaurant, function space and two bars including one selling craft beer, ales and stouts.
Victoria Gate Casino lives up to its billing as a 'super casino', equivalent in size to some Las Vegas venues, with one the biggest poker rooms in the country, alongside 24 gaming tables, 140 slot machines as well as 80 electronic table games.
The scale of the venue will generate at least 205 full-time jobs at the casino across a variety of roles including gaming, waiting and bar staff, to chefs, cashiers, greeters, security and administrative staff – the company has committed to sourcing at least 90 per cent of employees from within the Leeds City Region.
Andrew Herd, Chief Executive of Global Gaming Ventures, the developer of the Victoria Gate Casino, said: "This is a unique venue on a grand scale unlike anything seen before in the north of England and we are delighted to be unveiling our name, our look and our first employees. Although this is a venue in the heart of Leeds, staffed by people from the city, our customers will not just be Leeds-based – evidence shows us that a venue like a super casino attracts visitors from the region and beyond, bringing investment into the area.
"We are committed to providing jobs for more than 180 local people, training for 50 staff, plus apprenticeships and a graduate scheme," he added. "It's not just the scale, location and stylishness that makes the venue distinctive, what's also different is that, unlike most casinos in the north of England, guests will be able to simply walk in as you would any other leisure venue and enjoy a meal, a drink, watch the big game and relax.
We are creating a fantastic venue in the heart of the city and adding another new and exciting destination to the city's great line up of entertainment venues."
Robin Dobson, Director of Retail Development at Hammerson, commented: "The Victoria Gate Casino is set to provide a valuable boost for the local economy with the creation of more than 200 jobs, something that the Victoria Gate team is passionate about. We're looking forward to welcoming the casino later this year to enjoy the mixed entertainment offer that it will add to Leeds' new leading retail, dining and leisure destination."