By
Phil
- 3 July 2015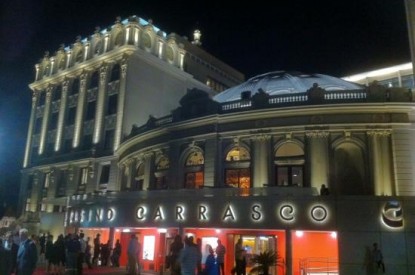 The Uruguay administration is currently divided over the future of slot machines outside of casinos.
According to reports emerging in local press, Uruguayan President Tabare Vazquez, is not behind new proposals which are currently being put forward by the Ministry of the Economy which would regulate slot machines in small business and shops. Illegal slot machines have become an increasingly pressing concern as they now generate around US$170m a year and do not pay taxes. The President is currently waiting on a report from the Secretariat of State before deciding on a course of action.
However, it would seem that Vazquez seems to be in favour of legislation similar to Mexico and Chile which prohibits slots from operating outside casinos while Economy Minister Danilo Astori intends to permit slot machines to operate but only under certain conditions.
Online gaming is also currently a focal point for discussion. At present Uruguayans can bet abroad via offshore gaming sites by using international credit cards, while local casinos are unable to offer their services online. A licensed land based operator requested permission to operate online services to locals but was declined permission under the previous administration of José Mujica.
Another proposal, which is currently under consideration, is a newly decentralised regulatory board. Under new proposals put forward by the Chair of Economics, legislation would first be approved which would update Uruguay's gaming rules, and create a new gaming board and then the issue of slot machines would be debated in Parliament.
The issue of slot machines outside of slot parlours and casinos has long been a contentious issue. During the the first Vázquez administration (2005-2010), the Executive sent a bill to parliament banning slot machines in shops and established a restrictive policy on gambling. This project became stalled in the legislature.
Then the administration of José Mujica (2010-2015) put forward regulation which would allow slots in neighbourhood shops with three slot machines being permitted per establishment with provisions in place that they could not be in close proximity to school, colleges and sports centres.
The recent debate comes on the heels of a number of court cases where slot owners have appealed in local courts against seizures. In October 2014 a municipal court in Montevideo annulled a move by the municipal government which would have forced a local bar owner to withdraw slot machines located from their premises. According to the court, the exploitation of slots is legal and the government had no right to prohibit it.
Slot machines outside casinos and slot parlours are a growing problem in Uruguay. Although there are no official figures it is estimated that there are around 20,000 illegal slot machines in Uruguay which are located in shops and small businesses and the judgement highlighted the need for urgent legislation on the issue.