By
Phil
- 10 September 2014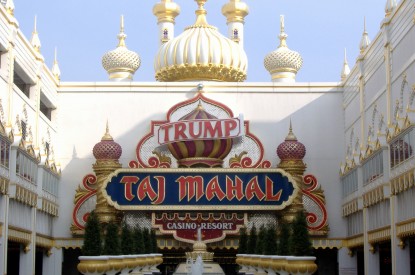 More jobs are under threat in Atlantic City with Trump Entertainment Resorts filing for Chapter 11 Bankruptcy, a move which analysts believe puts the future of Trump Taj Mahal under threat.
Trump owns two properties; Trump Plaza, which is due to shut on September 16, and the Trump Taj Mahal, which analysts believe could now also shut in November.
Around 8,000 casino workers are already expected to lose their jobs following a series of closures in Atlantic City. Two casinos, the Showboat and Revel, have closed already.
With Trump Plaza shutting its doors on September 16, and the Atlantic Club closing down in January, Atlantic City, which began 2014 with 12 casinos, will be down to eight.
The potential closure of the Taj Mahal would put another 2,800 employees out of work. Revenue at Trump Taj Mahal was down $35m to $108m in the first six months of 2014 whilst Trump Plaza turned a loss of $9.8m with revenues of $28m.
Trump Entertainment offloaded the Trump Marina hotel to Landry's for $38m in 2011, who renamed the Golden Nugget.
The company filed in US Bankruptcy Court in Delaware, detailing liabilities of between $100m and $500m, and assets of no more than $50,000. It didn't pay its quarterly tax last month and revealed it won't be able to make an interest payment to lenders at the end of September.
It is the fourth time Trump I its various guises has filed for bankruptcy. It has struggled since coming out of its last bankruptcy in 2010 with $350m of debt. It currently has over $285m of debt
Cost-cutting negotiations with the main casino workers' union have derailed. Local 54 of the Unite-HERE union rejected proposals for workers to relinquish their health insurance and pension policies, which would only have saved the casino $11m a year.
Analysts and believe the closings will benefit what has become an over saturated market with predictions that the remaining eight casinos will perform better with less competition.
The closures will mean Atlantic City only has 13,436 hotel rooms. Jim Wood, Chief Executive of Meet AC, believes this will reduce the city's capacity to host large events.
"The available inventory will shrink by 20 per cent, so the existing operators have to contribute more rooms if we are going after the mega-city-wide conventions," he said. "They will have to provide a larger room block."
As he looks to provide a boost to the remaining casino's revenues, Atlantic City's Mayor Governor Christie has just signed an executive order permitting the state's casinos and racetracks to accept sports bets, on anything other than New Jersey college matches.
"The Attorney General's Statewide Directive follows the Third Circuit's ruling and concludes that nothing under New Jersey law prevents casinos and racetracks from operating a sports pool," Governor Christie's office said. "The motion in federal court, filed on behalf of Governor Christie, asks Judge Shipp to clarify or modify his February 2013 injunction in conformance with the decision of the Third Circuit. Based on the arguments of the sports leagues and the United States Department of Justice, the Third Circuit has already ruled that New Jersey can carry out sports wagering as described in today's Statewide Directive. The motion simply would clarify and formalize that authority and give clear guidance to casinos and racetracks waiting to open a sports pool in New Jersey."
Atlantic City casino revenue dropped to $2.9bn in 2013, from a high of $5.2bn in 2006.