By
Phil
- 28 August 2013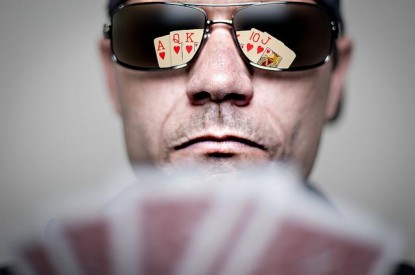 From the early days of the online poker boom, through to the devastating Unlawful Internet Gaming Enforcement Act of 2006 (UIGEA), and on to the events of Black Friday, US online poker players have been waiting for the realisation of their dream of seeing online poker being properly regulated and legalised in the country.
The good news is that there are definite signs that poker players in the USA should – once they get their bankrolls back following the Black Friday DoJ raids of Full Tilt, PokerStars et al – be able to enjoy the same games as poker players around the globe: the same cash games, tournaments, and 2-7 Limit Triple Draw Blood Wild River (OK, maybe not that last one, but eventually you can bet your bottom dollar someone, somewhere will offer it).
"We are already seeing individual states legislate for online poker," Nicholas Kisberg, founder and CEO of CardsChat.com says. "While there will certainly be states that will never legislate in favour of any form of online gambling, we expect US poker players to have some great new choices in the next few years. This is an industry that grows rapidly. Once acceptance comes in some of these fledgling sites could grow to be truly huge."
In 2011 the Wire Act – an antiquated law regarding bets on the phone – was amended to specifically ban betting on sporting events, but not online poker. The US Justice Department issued a ruling making online gambling legal, so long as it is permitted on the state level; that was a green light to some states that have been busy forging ahead with intra-state online gambling or poker. Some others, meanwhile, are playing a wait-and-see game and others flat-out banning it altogether.
While states like Oregon and Illinois sit on the fence, awaiting clarification from the DoJ on the new implications of the Wire Act, Nevada is forging ahead with online poker plans of their own.
Nevada's new legislation was tested in 2013 at the state's first legal online room, Ultimate Poker, with visitors to the 2013 World Series of Poker giving it its first test run. The WSOP themselves could well have a fully-functioning online poker site for American players up and running by the 2014 Series.
Delaware and New Jersey are finalizing their own intra-state plans, with New Jersey's system slated to launch in late November 2013. Meanwhile, Maryland and West Virginia look like moving in the right direction with their own bills. West Virginia has long been rumoured as a potential online poker partner for Delaware, and is certainly one to add to the list of 'maybes'.
The problem with most States is that, in this toughest of recessions, is a lack of finances. They're not willing to risk money to make money. However, with West Virginia, Maryland and New Jersey not in the same predicament as others financially, online poker legislation could prove to be a win-win for them.
"Generating revenues from online gambling could be a great lifeline for some of the US states that are in financial difficulty. US states are in a position to make themselves attractive to this industry. They should be looking at other nations around the world and seeing the financial benefits they have reaped, and copying those models," Mr. Kisberg said. 
The question is probably when California will regulate online poker, rather than if.  The state is considered to be the most promising market for online poker, and the amount of money at stake almost ensures that regulation will take place at some point.
So what's stopping them? Simply put, there are several competing players involved who all want to share equally in the risk and reward. 2014 has been mooted as the year when online poker "maybe" appears in California, but that maybe could well turn into a "not at all".
On the other side of the coin, however, are some states, such as Washington, who have made online poker a Class C felony. Montana, Nebraska and Indiana are among the states with archaic laws surrounding gambling generally, with the playing of any online gambling game outlawed.
Finally, let's take a look at Texas, the spiritual home of Texas Hold'em and of the legendary road gamblers who made the first trips to Las Vegas such as like Benny Binion and Doyle Brunson. While poker once ruled the state, lawmakers have so far made it clear that the game is no longer welcome. But that may yet change.
Poker fanatic, and Texas Representative, Joe Barton has reintroduced his online poker legislation to the House of Representatives, joining another bill for consideration by the body. HR 2666, the "Internet Poker Freedom Act of 2013," is Barton's second attempt at passing legislation for industry regulation, and with HR 2666 joining New York Congressman Peter King's bill, HR 2282, the "Internet Gambling Regulation, Consumer Protection and Enforcement Act of 2013," there are two tracks that online poker regulation can take. Peter King's bill is fairly far-reaching, intending to include ALL online gaming – not just poker. It would
Another Democrat, Harry Reid (Nevada), has been busy formulating a federal bill legalizing online poker of his own, and his plan would see other forms of online gambling sidelined. Reid's Bill could see Nevada and New Jersey at the head of the queue in the race to offer regulated online poker, allowing partnerships between the respective states' massive land-based casino giants.
The proposed casino-friendly federal bill could well invoke the anger of California (Reid's fear is that Californian gamblers visiting Vegas will stay at home if California offers its own online poker solution) and will certainly get opposition from other states preferring a more basic intra-state system. 
There is a general hope that as more states pass intra-state legislation, and establish a model that others can follow, states will band together to increase prize pools, player numbers and overall revenue. Eventually, this could hit a critical mass and open the gates again. And global gaming brands – particularly those forced out of the US after UIGEA – will be watching the situation carefully for signs of cashing in on a lucrative, rejuvenated market.
"All of us in the industry are closely watching what is happening in the US to see how things will pan out. Certainly it is a hot topic on our forums, and one that is hotly discussed. After all, many American poker players want to know if "the land of the free" is going to give its people more freedom to play online poker," Mr. Kisberg said. "The regulation of online poker is surely inevitable in the USA. It might take a few more states to go it alone to start off with – Texas and New Jersey seem likely to be next – before anything countrywide appears. By the time anything federal happens, however, we may be grinding Sit 'n' Gos high above the Earth in our space capsules. Watch this space."