By
Phil
- 17 January 2014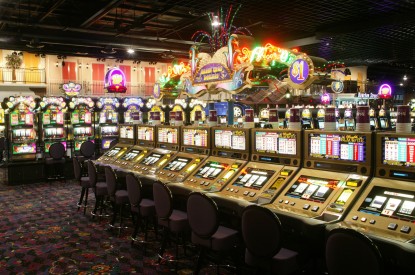 Since installing a Dallmeier surveillance system in September of 2011, the Mardi Gras Casino & Resort in Charleston, West Virginia, has reported it has been operating to the utmost satisfaction of the customer.
Video specialist Dallmeier teamed up with the national systems integrator: North American Video (NAV) who were responsible for the planning and installation of the CCTV system. The video system is a modern IP system with high-resolution HD cameras into which the existing analogue fixed and PTZ cameras were smoothly integrated. The cameras cover not only the different casino and hotel areas, but also the dog track.
Chris Batog, Surveillance Director of Mardi Gras Casino & Resort, said: "The unusually high image quality and attention to detail provided by the cameras even in the difficult lighting conditions of the casino area constituted one of our main reasons for selecting Dallmeier products."
The venue operates with 1,200 slot machines, 24 poker tables and 31 gaming tables but also has a very special highlight in the form of a dog racetrack on which several live races with first-class greyhounds take place every week. It is a huge facility that has to be reliably monitored to guarantee the guests' safety at all times.
Fixed dome cameras and movable PTZ cameras from the Domera series are installed in the casino. Domera is a modular, high-speed PTZ camera system. The high-resolution network cameras with 10x optical zoom and autofocus supply full high-definition video with 30 fps up to 1080p.
The images taken by the surveillance cameras are recorded on several servers of the DMX 2400 Smatrix model, a video IP appliance with as many as 24 video channels and an integrated storage system with up to eight hard disks. The low power input of max. 125W makes substantial savings in energy costs possible for the casino.
The DMX 2400 system also allows for multicast audio and video streaming through the SeMSy III video management system. SeMSy permits easy handling and management of different video and audio streams and their live presentation and recording at any point in a linked system. With graphic user interfaces into which the site maps of the Mardi Gras Casino & Resort have been integrated, employees can easily and intuitively operate the complete video system.
An additional advantage of the SeMSy system resides in its scalability. SeMSy can be expanded as needed and is always flexible. For example, additional cameras or monitors can be easily integrated into the network at a later date.
Mr. Batog added: "Not only was the support during the planning and installation phases exemplary; the after-sales care is fantastic, too. Our contact person is available to answer questions and provide updates at all times."