By
Phil
- 4 December 2017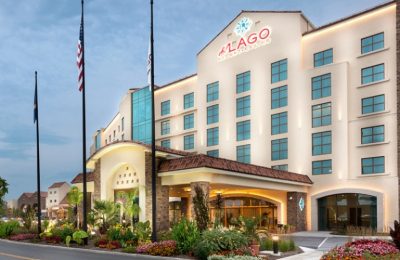 From the start, the mission behind del Lago Resort & Casino has been to act as a gateway to the Finger Lakes region.
That mission is coming to fruition as del Lago has significantly boosted tourism in the region since its opening in February 2017. According to data from the New York State Thruway Authority, traffic at Exit 41 has increased nearly 50 per cent since del Lago Resort & Casino opened.
In the year prior to del Lago's opening, average monthly traffic at the Thruway exit was 266,306 vehicles. Since the February opening, the average monthly vehicle count dramatically increased to 381,477 vehicles.
The uptick in traffic counts confirms the positive impact del Lago Resort & Casino has had on Seneca County and the Finger Lakes region. Local officials expected the number to significantly grow, but the recent figures far exceeded expectations.
"With the opening of del Lago Resort & Casino, we certainly expected more visitors to arrive in Seneca County via the Thruway. However, the data shared with us by the New York State Thruway Authority truly surpassed our expectations," Seneca County Board of Supervisors Chairman Bob Shipley said. "It's very clear that del Lago is bringing new tourists to our region while helping benefit both Seneca County and our local businesses. The area around del Lago is ripe for development, and I look forward to seeing how the increase in tourists will continue to help our region."
Local businesses are also seeing an increase in traffic and sales since del Lago Resort & Casino opened. Gary Schlegel, owner of Magee Diner on Route 414, has seen sales increase 15 per cent since the resort and casino became his neighbor last winter.
"We see more and more new faces in our restaurant every day, and 80 percent of the time my customers tell me they are on their way to or from del Lago," Mr. Schlegel said. "Del Lago helps bring cars off the New York State Thruway and into Magee Diner, and we are grateful for the mutually beneficial relationship we have built with del Lago and look forward to seeing more customers through our doors."
Because of the uptick, Magee Diner is in the process of expanding the restaurant and is converting its patio to a four-season room to accommodate the influx of customers. Schlegel also said the diner is in the process of obtaining its liquor license and hopes the changes will be made by spring 2018.
"As del Lago continues to grow, jobs, economic development, new and expanded businesses, and tourism in the region will continue to grow as well and we couldn't be happier. It's part of our mission and part of our business plan to help the community and the region," said Executive Vice President and General Manager Jeff Babinski. "These early indicators of del Lago's positive impact on the region are gratifying and only inspire us to continue helping local businesses expand and create even more new jobs and opportunities for our neighbors in Seneca County and the Finger Lakes region."
Since opening at the start of February this year, the casino has reported more than US$124m in gross gaming revenue.
Del Lago Resort & Casino recently reported its second best ever week during the week that included Thanksgiving and Black Friday. GGR for the week, November 20 to 26 came in at US$ 3,532,995. Table GGR from the casino's 85 tables came in at US$ 4,540,836. The 1,956 slots generated US$ 2,329,468 in revenue.