By
Phil
- 20 May 2022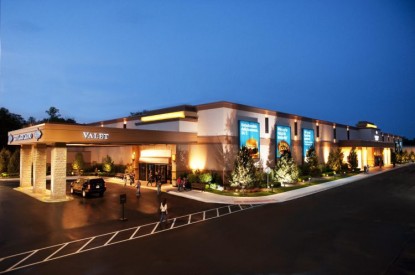 Gun Lake Casino is hosting a groundbreaking for a $300m expansion that will see a 15-story, 252-room hotel and a 32,000-square-foot 'aquadome' containing three pools added to the business.
The expansion, first announced in April 2021, is expected to be complete by March 2025, said Gun Lake Casino spokesperson Zach Harig. The expansion aims to transform the casino 'into the entertainment destination of the Midwest.'
Building a hotel at the casino has 'been a goal for the tribe for a number of years.'
The aquadome is expected to include three pools — one for families, another for guests who are 21 and older, and another for VIP guests. Last year's news release said guests could reserve private cabanas, and that at night there will be live music, DJs, dancing and more, the release said.
Opened in 2011, Gun Lake Casino features over 2,500 slots, 47 table games, and three restaurants.
In September, the casino opened a 72,000-square-foot expansion featuring more seating for live concerts and sporting events, additional gaming space, outdoor fire-lit entertainment and dining space, enhanced exterior features, and the ability for a guest to place wagers on sporting events.
"Envisioned for those seeking the ultimate entertainment and resort experience in Michigan," the expansion will add approximately 250,000 square-feet and extend the property west toward U.S. 131, the release states.
Included will be a 250-key, 4-diamond hotel offering luxury suites, a full-service spa and 3-meal restaurant.
Plans also call for a fully-enclosed glass-domed pool and nightlife entertainment space, "offering the climate and atmosphere of an island oasis all year around." Guests will be able to reserve private cabanas and enjoy the pool and hot tub by day and at night there will be live music, DJs, dancing and more, the release states.
"This demonstrates our commitment to maintaining the reputation as a leading entertainment and gaming destination in Michigan," Sal Semola, president and chief operating officer of Gun Lake Casino, said in a statement. "As a vital business in Allegan County, we recognize our ability to invest in our local community. The elevation of our offered amenities drives our economy through tourism and directly impacts the livelihood of local citizens through the development of new job opportunities."
Gun Lake Tribal Chairman Bob Peters said the continued growth of the casino is directly connected to the outstanding effort of current team members and that he looks forward to providing more employment opportunities.
"The Tribe remains steadfastly committed to reinvest in our collective future, for the benefit of tribal citizens, team members and the local community," Peters said. This will provide even more employment opportunities and enhance Gun Lake Casino's position as a tourism driver for western Michigan."