By
Phil
- 27 May 2016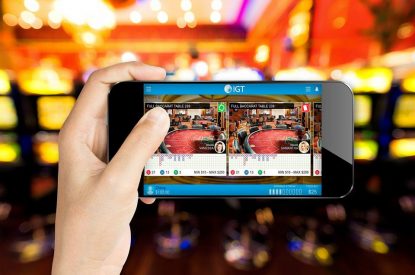 Lottery, gaming and interactive giant International Game Technology saw its bottom line rise to $115.66m in its first quarter up from $74.24m in last year's first quarter.
Revenue for the quarter increased 2.4 per cent to $1.28bn, up from $1.25bn last year.
Marco Sala, CEO of IGT said: "We begin 2016 with a solid first quarter, evidenced by good revenue growth with all operating segments contributing to an improvement in profitability. Continuing growth across all regions, especially North America andItaly, propelled our lottery revenues. Gaming revenues were resilient despite challenging market conditions in North America, our largest gaming market. We remain focused on reenergizing gaming operations and strengthening our global leadership in lotteries. We were successful in securing the Italian Lotto concession, one of our largest contracts and a cornerstone of our Italian operations."
Reported consolidated revenue grew 51 per cent to $1,282m from $848m in the first quarter of 2015, reflecting GTECH's acquisition of legacy IGT. On a pro forma, constant currency basis, consolidated revenue rose four per cent. Revenue growth primarily came from strong lottery performance, particularly in North America and Italy. Global lottery same-store revenue, excluding Italy, increased 18 per cent during the first quarter, reflecting the benefit of the record Powerball jackpot in the United States. Revenue from gaming was slightly below the prior-year period. During the quarter, the company sold 5,695 gaming machines worldwide.
Revenue for the North America Gaming & Interactive segment was $339m compared to $30m in the first quarter of 2015, essentially in line with the prior year.
Product sales were $81m compared to $17m in the first quarter of 2015. On a pro forma basis, product sales declined three per cent as lower machine unit volume was partially offset by higher systems sales. The segment shipped 3,951 units compared to 5,241 units in the first quarter of 2015, which included a large, one-off lease conversion sale in Maryland as well as sizeable VLT sales in Canada and Oregon. Excluding one-time items, commercial casino replacement units were up double-digits from the prior-year period.
CFO of IGT Alberto Fornaro explained: "Though the environment for participation games remained challenging, we were able to maintain our gaming service revenue as the higher contribution from software offset to the lower installed base. For the quarter, we shipped a total of 3,951 units in North America, which 902 were new and expansion and 3,049 were replacement units. If we look only at the casino replacement segment, leaving aside the VLT sales and the Maryland lease conversion of the first quarter of 2015, unit sales were up double-digit in the quarter. Higher new and expansion sales reflect the gaming machine shipment to lottery regulatory markets. System sales were higher than the prior year supported by system enhancements, such as service wins. DoubleDown revenue was unchanged year-over-year."
Operating income for North America Gaming & Interactive was $89m compared to $7m in the first quarter of 2015. North America Lottery revenue was $315m in the first quarter of 2016, 25 per cent higher than the prior year on a reported basis and 16 per cent greater on a pro forma basis.
International revenue was $185m compared to $131m in the first quarter of 2015 on a reported basis. On a pro forma, constant currency basis, International revenue declined two per cent from the prior year.International lottery same-store revenue was up two per cent with broad-based strength in Europe partially offset by weaker trends in Latin America. Lottery product sales were below the prior-year period, which benefited from large sales in New Zealand and Singapore.
Revenue in the Italy segment was $444m compared to $434m in the first quarter of 2015.
"The diversity of our product and geographic mix is a key element of our first quarter results," said Alberto Fornaro. "Revenue growth, disciplined cost management, and synergy savings all contributed to sharp profit expansion. Even after large interest payments during the period, we generated significant free cash flow, enabling us to reduce debt in constant currency and further improve our leverage profile."
In terms of products, Mr Sala said: "The next generation of our award winning on-premise mobile betting solution was highlighted at G2E Asia, where the new multi-play baccarat functionality was introduced. Last week, we began our on-premise field trial for sports betting with MGM in Las Vegas. The field trial for slot is scheduled later this year. The on-premise solution has the potential to leapfrog the competition and solidify our standing as the industry's innovation leader.
"Electronic table games are another emerging opportunity," he added. "A month ago, we announced an agreement with Paradise Entertainment that enables us to innovate on their groundbreaking intellectual property on a global scale. This will provide an exciting extension to our product portfolio in a new growing market segment. So, we have started 2016 with a solid showing. We have benefited from the leading positions we had established in lottery and we are executing our turnaround in gaming according to plan."