By
Phil
- 15 November 2017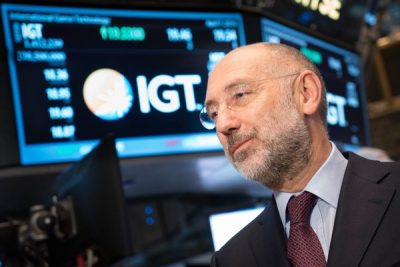 International Game Technology reported a loss of $804m in its third quarter due to an impairment charge and $118m of net foreign exchange loss.
On an adjusted basis, net income attributable to IGT was to $81m.
The impairment charge reflects a delayed recovery for the North America Gaming and Interactive reporting unit. Going forward, revenue and profit levels for the North America Gaming and Interactive reporting unit are expected to grow as new games and cabinets come to market.
Consolidated revenue was also down slightly to $1,221m from $1,266m in the third quarter of 2016. Revenue was down six per cent in constant currency, primarily on the sale of Double Down Interactive and new Lotto concession amortization. Adjusted for these items, consolidated revenue was up two per cent in constant currency, reflecting growth in global Lottery and Gaming revenue. "Our strong third quarter performance reflects the scope and balance of our business," said Marco Sala, CEO of IGT. "Our largest global Lottery operations are growing steadily and acceptance of our newest gaming machines is expanding around the world. The significant increase in Gaming and Lottery product sales demonstrates clear interest in our systems and technology solutions. We expect our sustained investment in innovation, led by a customer-first, player-centric focus, to drive continued momentum in both Lottery and Gaming."
"Thanks to a favorable product sales mix and reduced operating expenses, Adjusted EBITDA improved from the prior-year period, after considering certain non-comparable items, such as the DoubleDown sale," said Alberto Fornaro, CFO of IGT. "Based on the year-to-date results and current exchange rates, we expect to achieve Adjusted EBITDA of $1,640 to $1,680m for the full-year period."
Global lottery same-store revenue, excluding Italy, grew a robust 6.8 per cent in the third quarter, led by broad-based strength in North America. In Italy, late numbers activity was considerably lower than the elevated levels in the third quarter of 2016. Excluding late numbers, Italy lottery wagers increased 6% on exceptional growth for both 10eLotto and Scratch & Win.
Gaming service revenue declined nine per cent primarily impacted by the DoubleDown sale; adjusted for DoubleDown, gaming service revenue increased five per cent The global installed base grew 3,275 units from the prior-year period, including expansion for both casino and VLT units. Global gaming product revenue increased nine per cent from the prior-year period on strong system and software sales. The company shipped 6,406 gaming machines worldwide during the third quarter with higher average selling prices than the prior year.
In North America, product sales revenue increased 20 per cent to $91m, driven by large software and system sales. The segment shipped 3,597 gaming machine units in the quarter compared to 5,238 units in the prior-year period, when there was significant new and expansion and VLT replacement activity. Average selling price per unit was higher, supported by demand for new cabinets.
Internationally, product sales revenue rose five per cent to $87m, supported by Gaming system and Lottery software sales. Gaming terminal sales were below the prior year, as the segment shipped a total of 2,809 gaming machine units during the third quarter of 2017 compared to 3,742 units in the prior-year period.