By
Phil
- 10 July 2013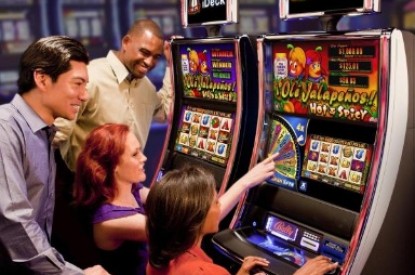 Bally Technologies has installed its award-winning Elite Bonsuing Suite applications at the Isleta Hotel and Casino, previously Hard Rock Albuquerque in New Mexico.
The casino will feature Virtual Racing NASCAR from Bally's award-winning Elite Bonusing Suite (EBS). Virtual Racing NASCAR takes in-game floor-wide casino promotions to the next level by enabling players to select one of eight famous NASCAR drivers: Clint Bowyer, Dale Earnhardt Jr., Jeff Gordon, Kevin Harvick, Jimmie Johnson, Matt Kenseth, Mark Martin, or Martin Truex Jr. from the touch-screen on the iView or iView Display Manager player-user-interface. Players choose their favorite driver and cheer him across the finish line while still playing their favourite slot or video-poker game.
The casino operator will also use EBS to add excitement across their iVIEW network using player-centric, real-time interactive promotions such as U-Spin Bonsuing, DM Tournaments and Flex Rewards.
"Bally's EBS applications will bring extra excitement to our casino floor," said Isleta Hotel & Casino General Manager Pam Gallegos. "We are especially excited about Virtual Racing NASCAR. Our players will be thrilled to be racing along with their favorite drivers, while having another way to win at the casino. These kinds of bonusing solutions help set us apart from the competition and give our loyal guests another reason to choose the newly banded Isleta Hotel & Casino. We're also excited to be the first casino in Albuquerque to take advantage of the latest technology Bally has to offer."
Additionally, the casino will utilize Bally's  CoolSign media-management solution and install the state-of-the-art Bally WayFinder application across the gaming floor, enabling players to easily find their favorite casino game or check out the latest menus at restaurants. CoolSign enables casino operators to showcase bonusing events, such as Virtual Racing NASCAR, on video screens throughout the property, further enhancing the excitement and anticipation that these types of floor-wide bonuses provide.
"We are very proud to partner with the Isleta Hotel & Casino in implementing Elite Bonusing Suite systems solutions," said Sridhar Laveti, Bally Technologies' Vice President of Client Services and Support. "Casino patrons in New Mexico will be thrilled with the second chances to win and additional excitement they will find on Isleta's gaming floor. We look forward to working closely with the Isleta Hotel & Casino to ensure they see a strong return-on-investment from our advanced solutions."