By
Phil
- 25 September 2018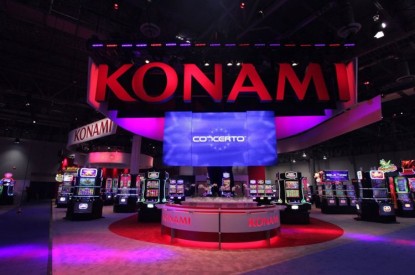 With momentum from popular game series such as Star Watch and Celestial Sun/Moon Riches, Konami will leverage proven game play features and bonus mechanics to deliver new entertainment on every Concerto cabinet at this year's G2E from the original upright to the new 65-inch 4K Ultra HD Concerto Opus.
In addition to record expansions to the Concerto Collection game library, Konami will premiere an entirely new 4K video cabinet called KX 43, with an impressive 43-inch edge-lit single screen, relaxed slant top, lighted dash interface, and exclusive 4K game content. Konami's award-winning SYNKROS casino management system will debut its "cardless" player loyalty solution SynkConnect™, which offers players a variety of convenient methods to login to their account at the game machine.
"From top game play features to leading-edge systems technology, Konami is always creating new opportunities for casino players and operators to enjoy lasting engagement and memorable entertainment," said Steve Walther, senior director, marketing & product management. "This year's G2E lineup is characterised by continued growth and innovation across an array of original Konami releases, which we look forward to sharing with over 25,000 gaming executives and professionals from around the world."
Konami's latest cabinet, KX 43 is among the key releases, and will be arriving to the event with nearly a dozen exclusive game themes in 4K Ultra HD resolution. Its 43-inch portrait screen features four-times the pixel depth of standard HD, with custom-programed graphics interacting between the game screen and the LCD button panel. With a standard USB charging port, double cup holders, and classic bash button, the KX 43 is designed with the core comforts and conveniences for today's players.
"KX 43 delivers a unique gaming experience through its 4K-resolution game content and provides just the right combination of premium and practical," said Walther. "It is designed with a lean frame and standard base width for any area of the floor and comes with a competitive lineup of premiere titles, from symbol-driven linked progressives to original jackpot bonuses."
The company's 2018 display will also carry a broad variety of top-quality game content for each cabinet in the Concerto Collection. Konami's 65-inch 4K Concerto Opus will debut a unique linked progressive called Treasure Ball™, which rewards players with mystery jackpot prize balls in greater numbers and sizes as they increase their bet. Agent: Magnifying Jackpots™ and Inspector: Sign of the Jackpots™ continue the success of Konami's Strike Zone™ mechanic on the curved Concerto Crescent™ and Stack™ cabinets with scaling multi-denom standalone jackpots. Other must-see progressives including Solstice Celebration Triple Sparkle™, Matsuri Kojiki Moon™, Sparkling Roses Color Bloom™, the Golden Blocks™ series, and Jackpot Streams Evolution™ will also span the floor with leading mechanics to reach and reward players.
"Konami's latest game theme developments are at the highest level of depth and quality. We've invested strong talent, research, and strategic thought into these titles and look forward to introducing them to the industry for the first time during G2E 2018," said Walther.
Konami's SYNKROS casino management system will connect the booth with leading tools, features, and technology to power diverse casino enterprise sectors and sizes. This year's G2E event marks the debut of Konami's SynkConnect "cardless" player loyalty solution. SynkConnect empowers casino players with a variety of secure touchless methods to authenticate their player account at the game, including a mobile device, room key, fob, and traditional players card. Konami's "cardless" SynkConnect technology has an associated player mobile app that gives players a convenient method of touchless authentication at the device and intuitive account management tools they can view from anywhere. Available exclusively through SYNKROS, SynkConnect gives players more ways to connect and engage with the casino's loyalty program without requiring a traditional plastic players' card. This and many other tools and features will be available for guests to explore first-hand within a live, comprehensive demo environment.