By
Phil
- 22 August 2013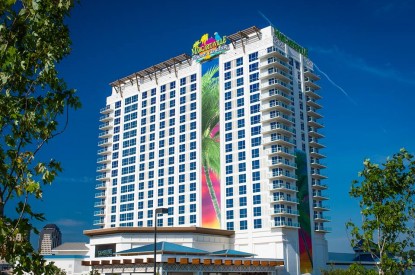 Genesis Gaming Solutions has installed its Bravo Pit table management and player tracking system at the newest Margaritaville Resort Casino in Bossier City, Louisiana. The company also supplied gaming tables, quick-change tabletops and layouts for the casino's opening.
The Bravo Pit system, which was installed on all 54 of Margaritaville's gaming tables, is a complete table game management and player tracking system designed for more efficient player ratings and pit management utilizing electronic data collection.  Bravo Pit allows for easy input and tracking of all ratings and management functions.  Players are rated electronically and given credit for play immediately.
The Bravo Pit system also gives casinos the ability to market to table players the same way they market to slot players. Customers get credit for play regardless of their wager. Comps are justified and reward points are easily tracked.
Kevin Walsh, Director of Table Games for Margaritaville, said: "The opening of our newest and largest Margaritaville casino is a significant occasion for us and we knew we needed the best pit system to help us best manage our table games operation. The bravo Pit system not only equips us with all the tools we need to effectively achieve our operational goals, it also helps us to provide better service to our players – which is key in this competitive market."
Genesis Gaming Solutions also provided Margaritaville with 45 custom-built gaming tables, complete with its innovative Bravo quick-change tabletops.  Available in a variety of gaming table styles, the quick-change tabletops allow casino personnel to quickly change out layouts without having to touch various items on the gaming table.  Chip trays, table signage, dealing shoes, discard racks and other equipment do not have to be removed, saving time and getting the table back in play in minutes.
The company also supplied its Bravo table game layouts.  Bravo layouts are made of a specially formulated blend of suede polyester material that provides superior durability than the standard graphic cloth.  Available in hundreds of colours, Bravo layouts can easily accommodate sophisticated printed graphics such as gradients and images with crisp, sharp colours making them ideal for use in marketing casino events and promotions.
"We are delighted to be a part of this newest Margaritaville casino opening," added Randy Knust, President of Genesis Gaming Solutions.  "We hope that the quality and innovation found in our Bravo Pit system, gaming tables, quick-change tabletops and layouts contribute to the success of Louisiana's newest gaming property."