By
Phil
- 20 October 2014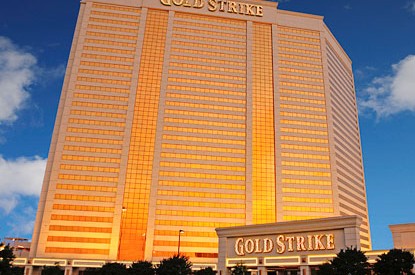 MGM Resorts International has confirmed it will offload the Gold Strike Hotel & Gambling Hall to JETT Gaming, a company owned by members of the Herbst family, for an undisclosed fee.
MGM said it had entered into a purchase and sale agreement with JETT Gaming and Jean Ventures. The deal requires state regulators to approve the deal.
Dan D'Arrigo, Executive Vice President, Chief Financial Officer and Treasurer of MGM Resorts, said: "As we continue to review and refine our portfolio of properties, and focus on new developments in international and regional markets, we have agreed to sell Gold Strike Hotel & Gambling Hall to JETT Gaming and Jean Ventures."
Tim Herbst, Manager of JETT Gaming and Jean Ventures, said: "We are pleased with the opportunity to purchase Gold Strike and the surrounding property. We will continue to evaluate our plans for the site as we work diligently to get this transaction completed."
Terms of the sale were not disclosed, and closing is contingent upon regulatory approvals and other customary closing conditions.
Gold Strike Hotel & Gambling Hall, acquired by MGM Resorts International in connection with its acquisition of Mandalay Resort Group in 2005, is a hotel and casino located in Jean, Nevada, approximately 13 miles from the California state line. Opened in 1987, the hotel has 300 hotel rooms, The Gold Strike Steak House, Bonanza Buffet and a snack bar. The property hosts 400 slot machines and 10 table games. The Gold Strike Auto & Truck Plaza, a truck stop and service station, and the Nevada Landing Shell, a service station, are located adjacent to the property.
ETT Gaming is a slot machine route company established in 2009 and owned by Jerry Herbst and his son, Tim Herbst. JETT Gaming operates a slot route in 131 locations and two small casinos in Nevada. Jean Ventures, LLC is a property development company managed by Tim Herbst.