By
Phil
- 24 May 2023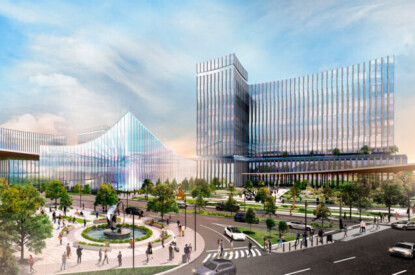 The Nassau County Legislature voted 17-1 to give Las Vegas Sands a 99-year lease, allowing it to develop the 72-acre area around the Nassau Coliseum in Uniondale into a $5bn resort casino, including a hotel, entertainment venue and housing.
The casino would create 8,500 jobs and provide $100m in annual revenue around the Coliseum. Nassau County Executive Bruce Blakeman also stood in support of the project as well.
Matthew Aracich, the president of the Building and Construction Trades Council of Nassau and Suffolk Counties, said: "It's taking a property sitting there for more than four decades and giving it life, to make sure it's a generator of taxes."
Sands Chairman and CEO Robert Goldstein, said: "This is an important step in our company's efforts to secure a New York gaming license and ultimately develop a world-class hospitality, entertainment and gaming destination…we are proud of the widespread coalition we have built with our new neighbors across Long Island. We are grateful for the trust they have placed in us and look forward to continuing to collaborate with the community."
"Our company's track record of driving significant economic benefits to the communities in which we operate and the meaningful relationships and partnerships we have created in each of those communities gives us a unique perspective on what it takes to develop transformative tourism destinations that positively impact the local community. Based on that experience, we strongly believe Long Island can be home to one of the region's great entertainment and hospitality developments. Our announcement today is only the first part of this journey. Our ability to put forward a compelling and competitive proposal will only succeed if we engage with the Long Island community and, in collaboration, develop a proposal that reflects the input of all those involved."
Ron Reese, senior vice president of global communications and corporate affairs for Las Vegas Sands, added: "This is the jumping off point for this process. It's not the end, it's the beginning. Throughout this process, Sands New York has engaged in over 300 community meetings, where we've had extensive and meaningful conversations with the surrounding residents and organizations throughout Long Island. We are very gratified to have received great support from institutions including Nassau Community College, Long Island University, NAACP New York State Conference, leaders in organized labor, local and regional chambers of commerce including Uniondale Chamber of Commerce and the Nassau Council of Chambers, the Long Island African American and Hispanic Chambers of Commerce, and the Long Island Association, as well as numerous not for profit organizations, small businesses, and many others. We look forward to continuing the discussions with all residents, sharing ideas, and learning about new ways we can be of service to the community," Reese said.
The integrated resort components of a Long Island development would include outdoor community spaces, four and five-star hotel rooms and a world-class live performance venue honoring the long legacy of live music at the Nassau Veterans Memorial Coliseum. The resort property would also feature celebrity chef restaurants, experiential events and venues and flexible meeting and convention space, including ballrooms. Other amenities would include high-quality casino gaming, which is planned to represent less than ten percent of the project's total square footage, a luxurious day spa, swimming pool and health club, and a variety of other entertainment programming.
Building upon years of community outreach at the site by RXR, Sands will work with local Long Island communities to co-create a development plan and bid that ensures that the new integrated entertainment and hospitality resort maximizes economic opportunity, helps to build stronger communities, and protects the quality of life for all Long Islanders. Sands will re-activate the various working groups previously established by RXR to identify the goals and opportunities for local residents.
The project would also provide thousands of quality union jobs in both construction and operations.