By
Phil
- 1 August 2014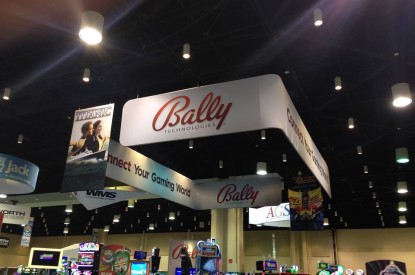 Scientific Games and Bally Technologies have entered into a definitive merger agreement whereby Scientific Games has agreed to acquire all of the outstanding Bally common stock for $83.30 in cash per share, which represents a 38 per cent premium to Bally's closing stock price on July 31, 2014.
Having already bought WMS Gaming, Scientifics' deal with Bally follows news that GTech is to buy IGT, meaning that the three biggest US slot machine manufacturers will all have been taken over.
The value of the Bally transaction is approximately US$5.1bn, including the refinancing of approximately $1.8bn of existing Bally net debt. The transaction was unanimously approved by the boards of directors of the two companies.
"The acquisition of Bally provides us with a unique opportunity to combine two exceptional companies with long track records of creating leading-edge games and gaming technology products for players and delivering innovative solutions to our customers," said Gavin Isaacs, Scientific Games' President and Chief Executive Officer. "With leading gaming, lottery, and interactive content, world-class systems capabilities and table game offerings, we believe that the combined company will be uniquely positioned as a strategic partner for gaming and lottery operators, offering a highly diversified suite of value-enhancing products and services across multiple worldwide distribution channels and platforms."
"Having worked side-by-side with the talented teams at Bally and more recently Scientific Games, I am confident this combination brings together best-of-breed cultures and is occurring at a truly opportune time as both companies are committed to bringing the highest value products and services to customers," continued Mr. Isaacs. "The combined company will feature world-class research and development capabilities, an expanded base of recurring revenues and greater worldwide penetration in key geographies, including the AustralAsia region. In addition to the strategic value of the transaction to our customers, we expect to create significant shareholder value as the transaction is expected to deliver immediate earnings and cash flow accretion and will allow us to meaningfully reduce our leverage over the next three to four years. Reflecting both organizations' recent post-merger integration successes, we have identified and expect to realize $220 million in annual cost synergies and $25m of annual capital expenditure savings by the end of the second year following the closing of the transaction."
"The combination with Scientific Games will benefit our customers and shareholders," said Richard Haddrill, Bally's Chief Executive Officer. "Increased scale, geographic diversity and product development capabilities will create a new runway of growth opportunities through new products and a comprehensive portfolio of customer-focused solutions. This transaction delivers immediate value to our shareholders, and the highest share price in our history. We look forward to working with our new colleagues at Scientific Games to execute a detailed integration plan to realize customer satisfaction and additional value."
The transaction would expand Scientific Games' portfolio of products and solutions to include leading casino management systems and table products, including automatic shufflers, proprietary table games and electronic table systems. It would also expand the range of Scientific Games' social and real-money iGaming and iLottery products and services. This expanded portfolio is expected to position Scientific Games to better cross-utilize content and technology across the lottery, gaming and interactive sectors to propel future growth.
The combined company is expected to have world-class global sourcing, production, engineering and product development capabilities, as well as a large installed global base of diverse recurring revenue products and services. Scientific Games and Bally generated combined revenue of approximately $3bn in the 12-month period ended March 31, 2014.
Scientific Games expects to achieve the anticipated $220m of cost synergies and $25m of capital expenditure savings by consolidating operations and generating efficiencies in the areas of manufacturing, engineering, field and customer service and administrative operations. Scientific Games anticipates incurring $75m of costs to achieve the cost synergies and $40m in capital costs to complete the integration of the companies. In addition, the combined company is expected to benefit from accelerated utilization of various tax attributes against US-based pre-tax income.
Scientific Games would acquire all of the outstanding shares of Bally for $83.30 per share in cash, for a total transaction value of approximately $5.1bn, including net debt of approximately $1.8bn. The acquisition would be financed with debt and cash on hand and Scientific Games has obtained committed debt financing for the transaction, which is not subject to a financing contingency.
The acquisition is subject to customary closing conditions, including receipt of Bally shareholder approval and antitrust and gaming regulatory approvals, and is currently expected to be completed in early 2015. Scientific Games and Bally are both licensed in more than 300 gaming jurisdictions worldwide, which is expected to help facilitate obtaining the required gaming regulatory approvals.
Upon closing of the transaction, Mr. Isaacs will continue as President and Chief Executive Officer of Scientific Games, and it is anticipated that Mr. Haddrill and David Robbins, Chairman of the Board of Directors of Bally, will join the board of directors of Scientific Games, with Mr. Haddrill anticipated to serve as Vice Chairman.
BofA Merrill Lynch, Deutsche Bank Securities Inc. and J.P. Morgan served as the financial advisors to Scientific Games and Cravath, Swaine & Moore LLP served as the legal advisor to Scientific Games for the transaction. BofA Merrill Lynch, J.P. Morgan and Deutsche Bank Securities Inc. provided the committed debt financing for the transaction, and Latham & Watkins LLP served as the legal advisor to Scientific Games for such financing.
Macquarie Capital served as lead financial advisor and Groton Partners served as co-financial advisor to Bally and Skadden, Arps, Slate, Meagher & Flom LLP served as the legal advisor to Bally.