By
Phil
- 9 September 2022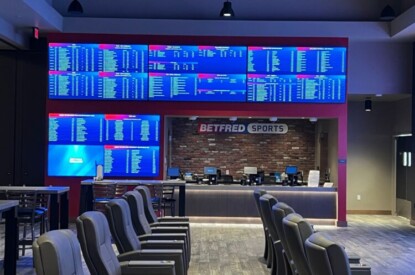 We-Ko-Pa Casino Resort has launched a new Sportsbook powered by Betfred, featuring state-of-the-art 4K video walls and displays, a cashier stand with four wagering terminals, and strategically located betting kiosks designed to appeal to sports betting enthusiasts throughout Arizona.
"We took our time in creating our new Sportsbook because we wanted to learn from those that came before us, maximize existing resources, and leverage the latest electronic advancements so we could take our facility to the next level of gaming excellence," explained Kirk Brumbaugh, Table Games Director for the We-Ko-Pa Casino Resort.
Powered by Betfred Sportsbook (with whom the We-Ko-Pa Casino has partnered since August 2021 to bring sports betting to Arizona residents), the new Sportsbook boasts a massive Planar 4K direct view LED video wall (47′ wide by 9′ tall) that can show three separate games side-by-side, with each screen measuring 18'4′ diagonally. Each screen can be further split into four separate 9.2′ diagonal sections, allowing up to 12 separate games to be seen simultaneously.
"We're excited to increase our presence in Arizona in partnership with the We-Ko-Pa Casino Resort and WKP Sportsbook," stated Bryan Bennett, Chief Operating Officer of Betfred USA Sports. "As a team, we set out early to create one of the best game-watching and betting experiences in the state, and we're confident we've accomplished that goal."
Opening just in time for football season, the new Sportsbook is connected to WKP Sports & Entertainment, a full-service sports bar that offers a variety of innovative appetizers, wings, burgers, sandwiches, pizza, salads and entrees along with more than 45 draft beers, signature cocktails, their proprietary Party Punch, beer cocktails, wine, premium spirits and adult milkshakes. Beverage service will be available during the Sportsbook hours of operation.