By
Phil
- 20 March 2017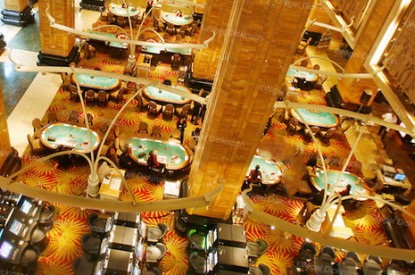 NagaWorld, located in the Cambodian capital city of Phnom Penh, recorded GGR growth of four per cent in 2016 compared to a three per cent decline for Macau.
Net profit increased by seven per cent to US$184.2m. NagaWorld had 241 gaming tables and 1,648 EGM in place.
NagaCorp Chairman Timothy McNally said; "We are pleased to report that NagaCorp continued to generate positive operational and financial results for shareholders during 2016 with net profit of US$184m, a seven per cent increase over last year. GGR for the year ended 31 December 2016 increased by four per cent to US$501m, compared to a three per cent decline for Macau. Our positive results were attributed to a combination of solid business strategy and acumen, operational and execution efficiency, and an increasingly vibrant tourism market in a politically stable country, leading to an increase in business volume across all segments of the gaming business. Today we operate the largest integrated leisure and gaming entertainment destination in the Mekong Region.
NagaWorld continued to achieve growth in the Mass Market segment where Public Floor Tables buy-ins and electronic gaming machines bills-in increased by 12 per cent and nine per cent respectively. This business volume growth is attributable to tourism growth into Cambodia, generating increased footfall into NagaWorld. During the Year, Public Floor Tables revenue grew by seven per cent as a result of 12 per cent increase in buy-ins. EGM revenue grew by six per centas a result of a nine per cent increase in bills-in and the receipt of a fee of US$60m from an investor for the placement and operation of EGM in NagaWorld. As at 31 December 2016, the Group's loyalty program, the Golden Edge Rewards Club had approximately 16,041 active Mass Market members up from 15,500, a year earlier). The Group said it continued its efforts to understand its members' profile, create targeted marketing promotions and rollout player development initiatives to increase the number of visitors and the amount of gaming spending.
The Group's VIP Market comprises players brought in by junkets, who are either under a commission or incentive program, and direct players without an intermediary. The overseas junket incentive program introduced in March 2013 has since enabled the Group to increase existing table limits while managing volatility and credit risk. VIP rollings increased by 11 per cent to US$8.7bn with a win rate of 2.6 per cent. Since January 2016, the Group had revised its overseas junket incentive program to improve its margins. Non-gaming revenue increased by 33 per cent to US$30.7m, primarily resulting from higher occupancy and average rates as well as better performance across all the food and beverage outlets. Mr. McNally added: "During the Year, we continued our efforts to provide internationally recognised products and services to both gaming and non-gaming patrons while continuing to grow market share through our unique position in the region. The opening of NagaCity Walk in August 2016 marked a significant step in the Company's development. NagaCity Walk will enhance the overall retail experience available to guests and further strengthen NagaWorld's appeal to both the VIP and Mass markets."
Visitation to Cambodia continued to grow with international arrivals increasing by five per cent to 5m visitors in 2016 compared to 2015, with arrivals through Phnom Penh International Airport increasing by 10 per cent. Visitors originating from Vietnam (19 per cent), China (17 per cent) and Thailand (eight per cent) together accounted for 44 per cent of total arrivals to Cambodia. Visitors from China increased by 20 per cent year-on-year to 830,003 visitors in 2016. Visitor growth continues to be one of the growth drivers of the Group's business. The increase in international arrivals into Cambodia was driven by the country 's political stability, an abundance of business opportunities in an emerging market, and increasing appeal as a travel destination. The Cambodian economy also continued to register stable growth during the Year. The International Monetary Fund is projecting real growth in Cambodia's Gross Domestic Product of seven per cent in 2016 and 6.9 per cent in 2017 along with inflation of 3.1 per cent and 2.7 per cent, respectively.
The operator is on track to open its Russian Integrated Resort on time. Mr. McNally stated: "Based on the current state of development, our gaming and resort development project in Vladivostok, Russia remains broadly on schedule for operation by 2019. We have established an office at the city center and a number of key personnel have been appointed to monitor various aspects of the progress of the project. We believe our strategy to diversify our business geographically and expand into new casino markets will drive revenue growth in the long term."
Related Stories