Bulgaria – BEGE the next stop for Quixant's pioneering gaming product revolution
With an ever-evolving, versatile offering of display and PC-based hardware technology, Quixant is at every geographical forefront of the global gaming industry. Widely renowned as the premier event in Eastern Europe, both on a domestic and international scale, the Balkan Entertainment and Gaming Expo (BEGE) takes place in Sofia on 21st-22nd November – and marks Quixant's latest attendance in what has already been the busiest year yet for the market-leading supplier. A ...
12 hours ago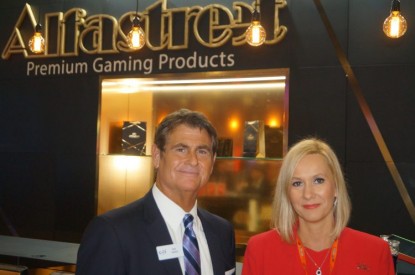 Slovenia – Alfastreet chooses the SC Advance bill validator once again
Crane Payment Innovations has announced that Alfastreet, a major manufacturer of multi-player gaming products from Slovenia, has reaffirmed its commitment to the SC Advance bill validator. Alfastreet's Chief Executive Officer, Tjasa Luin Peric, and CPI's President of Gaming, Eric Fisher, both signed to extend a long-term Preferred Partnership Agreement during the G2E Las Vegas ...
13 hours ago
US – Former AGA President Geoff Freeman joins AGS Board
Former American Gaming Association President and Chief Executive Officer Geoff Freeman has joined the AGS Board of Directors. Mr. Freeman, who stepped down from his role as President and Chief Executive Officer of the American Gaming Association (AGA) in August, is now the President and Chief Executive Officer of the Grocery Manufacturers Association, the leading representative ...
Argentina – Buenos Aires to announce details of new tax this week
The governor of the province of Buenos Aires Maria Eugenia Vidal and the mayor of Buenos Aires Horacio Rodríguez Larreta will officially announce new gambling taxes this week. The new tax will be imposed on slot machines in both the city ...
5 days ago
Israel – Israel considering legalising poker
Legislators in Israel are considering whether or not to legalise poker tournaments for the first time in Israel in the country following a Supreme Court ruling that poker is a game of skill and so should not be classed as gambling. A Bill ...
6 days ago
UK – Delays to new FOBT laws forces Sports Minister's hand
Tracey Crouch has resigned from her position as Sports Minister over delays to the stake cut on Fixed Odds Betting Terminals. Chancellor Philip Hammond ...
1 week ago
Argentina – Online gambling suspended in Misiones
The Provincial Institute of Lotteries and Casinos of Misiones (IPLyC), has reported that it has suspended the operation of local online gambling platform ...
1 week ago
Switzerland – Swiss Casinos partners with Playtech
Following the Federal Council's enactment of the new Gaming Act and the associated regulations with effect from 1 January 2019, Swiss Casinos has said it will partner with Playtech to refresh the online gaming market with an attractive offer next year. The Swiss Casinos Group has, after extensive research and careful evaluation, decided to work with online gaming specialist Playtech. The company's success is based on strong partnerships with licensees around the ...
India – KamaGames looks to grow Indian audience with the release of Teen Patti
KamaGames, the largest European social mobile poker operator, has launched a brand new social card game to drive player number growth in the emerging Indian casual gaming market. Available globally across both iOS and Android platforms, Teen ...
Malta – Betsoft signs strategic content partnership with Scandinavian powerhouse Equinox Dynamic
Solidifying its presence in Scandinavian and German markets, Betsoft Gaming has signed a strategic content agreement with Equinox Dynamic, specific to its Nordicasino operation. As with many recent Betsoft partnerships, Equinox Dynamic will ...
Portugal – Portugal launches largest ever online gambling crackdown
The Fiscal Action Unit of the National Republican Guard (the national gendarmerie force of Portugal) has uncovered an €80m a year illegal, online gambling ...
3 days ago
Bulgaria – BetConstruct to present its solutions for east European region at BEGE 2018
BetConstruct is travelling to Sofia, Bulgaria, on November 21 to 22 to participate in Balkan Entertainment and Gaming Expo which keeps gaming entities on ...
3 days ago