By
Phil
- 23 October 2013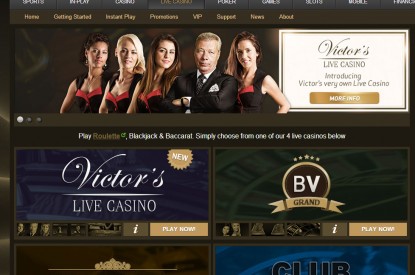 Online bookmaker BetVictor has opened its own online Live Casino's doors to punters, allowing the company to indulge in the opulence and ambience of a real land-based casino with live croupiers from the comfort of their own home.
All the action takes place inside BetVictor's privately owned custom-built studio, the first studio to be solely owned and operated by an online gaming company, where players can speak to croupiers via a chat window to receive a verbal response via a video streaming link. This innovative approach allows punters to be far more involved in the game compared with traditional online casinos.
BetVictor's Live Casino offers a sleek and ergonomic interface using cutting edge software alongside entertaining croupiers or 'dealer-tainers' to make for a seamless customer experience. The software automatically recognises when a ball has fallen into a roulette wheel pocket, or a card has been turned face up to convert this into a form which can be used by BetVictor's online betting console.
Victor Chandler, Chairman of BetVictor said: "This is an exciting development for the company, being able to offer our customers, old and new, our very own "Victor's Casino". I aim to play an important and hands-on role in making sure the gaming experience at Victor's Casino is unique, friendly and thoroughly professional. We are convinced this takes our online casino to a different level to anyone else in the market place and we are delighted with the feedback we have received so far from our customers.
"Having our very own casino gives us the opportunity to be flexible, to innovate with our own promotions and gives players the opportunity to communicate with our experienced croupiers and dealers whose role it is to make Victor's the ultimate Live Casino experience. We hope you enjoy the ride."
BetVictor's Live Casino is open 24/7 and employs 40 highly trained croupiers with a wealth of land based casino experience from around the world. With continuing advances in cutting edge technology and the trend for people wanting access to engaging and interactive experiences online, BetVictor's Live Casino provides the best of both worlds; a digitally available live casino with real, charismatic dealers.
BetVictor's Live Casino Operations Manager, David Pritchard added:  "I'm proud to have been the project manager for 'Victor's Live Casino' studio, and am confident that we have delivered a product that will take live casino play to the next level.
"Our focus is on giving our customers the personal service they would expect in any top casino with an international team of dealers (or 'dealer-tainers' as I like to call them) delivering the games in a professional yet personal manner. We have some real personalities on board and I'm sure they will prove to be very popular with our customers. Unlike other online casinos our management team are real casino people, with real casino experience and I'm confident that this will set Victor's Casino apart to become the online players' Live Casino of choice."
The launch of "Victor's Casino" complements BetVictor's already impressive live casino offering to now give customers the choice of 4 different rooms to play roulette, blackjack and baccarat.
BetVictor's Live Casino offers industry leading table limits, up to £3,000 on a straight up number on Roulette and up to £25,000 a box on Blackjack with a £175 real cash welcome bonus available to all new players. BetVictor's Live Casino is available online and on iPad.
Related Stories