By
Phil
- 9 February 2018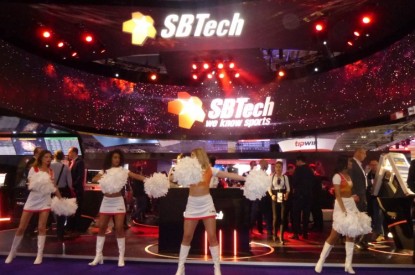 Amid a bevy of cheerleaders and under a hugely spectacular multimedia display, SBTech released Pulse, an innovation in live betting that is set to completely revolutionise the sector, at this year's ICE Totally Gaming expo.
Inspired by principles of gamification, Pulse (patent pending) is designed to deliver an entirely new in-play experience, achieving greater levels of engagement and brand loyalty across the global SBTech operator network.
Pulse puts the player at the heart of the action, enabling bet placement on a specific outcome in a live event within a defined time period, with the potential payout increasing as the timeline progresses.
The mobile-first feature is simple, elegant and effective.mFor example, the player bets on a goal to be scored in the next 30 seconds. The time window is split into three periods of 10 seconds. The payout rises with each new 10-second period.
Ian Bradley, SBTech Chief Product Officer, said: "Pulse is SBTech's new take on live betting and appeals to players by offering them the chance to win progressively rising payouts. They must hold their nerve during the bet period, but the win will be that much sweeter if they hold out until the end."
Having led the way in live betting for many years with features such as Fast Markets, Partial Cash Out and most recently Add2Bet and Action Betting, SBTech has now raised the in-play bar with the rollout of Pulse, the new centrepiece of its premium sportsbook offering.
After a year in which the company entered key partnerships with a host of tier 1 operators and launched in a number of newly regulated markets, SBTech is now poised to leverage Pulse to achieve unprecedented success for its international partners.
Related Stories