By
Phil
- 14 November 2017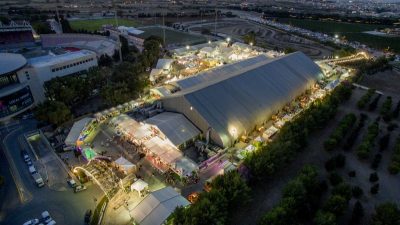 The fourth annual Summit of iGaming Malta will take place at a new venue this year with Malta Fairs & Conventions Centre (MFCC) in Ta' Qali hosting the event from November 22 to 25.
The event is set to be the largest dedicated iGaming exhibition and conference for the iGaming industry with 7,000 delegates, 100 speakers and over 200 stands.
Eman Pulis, Managing Director of the company behind SIGMA, said: "From a simple bedroom project to a buzzing show that has doubled in size over three years and shows no signs of plateau: this has been our humbling journey so far; a roller coaster that has connected many entrepreneurs and gained a bit of respect from the elite of igaming. 2017 is the very first year where we're embracing the challenges and opportunities of a global show, with growing interest from the heavyweights of the industry across continents. Shortly after SiGMA16 we took heed of exhibitor feedback and will be introducing some interesting upgrades.
The venue is completely new, opening in October last year, and really shows the growth of the event.
Mr Pulis explained: "Arguably the toughest of decisions we had to endure to date – stay where we are but be unable to grow the show with new exhibitors or move elsewhere? Hardly anyone wanted to release their booking for 2017, which meant we literally couldn't sell a single stand space to a new exhibitor. Delegates want to meet existing but also new exhibitors. For us it was important to keep the show cosy and fun but at the same time enable it to grow, with new exhibitors. 2016 was already a bit of a squeeze in terms of crowd so we decided to go for a bigger venue with an exciting set up branded 'iGaming Village', with six themed bars, three themed restaurants and two themed lounges – all free of charge to all delegates."
The event features exhibition spaces for both interactive gaming suppliers looking for new and existing operators as well as operators looking to attract affiliates and marketing partners. The conference is two-tracked, with track one focusing on global regulation, the legal landscape, best practices in operations and marketing and the convergence between interactive and land-based gaming. The second track is focused on acquisition and will feature SEO professionals, latest e-marketing techniques, industry trends, social media marketing tactics and more.
"The conferences worked marvels in 2016, with a number of partnerships and a new cabaret-style layout room – the hall was packed from 9am to 6pm," Mr Pulis added. We plan on establishing more partnerships, and apply even stricter guidelines for the best speakers. "We're also changing the way content is presented by reducing the run-of-the-mill panel, at times mind-numbing discussions with more engaging content. Come SiGMA17, expect more fish bowls, speed dating and better interaction between speakers and audience using latest technologies and apps available. Harsh as it may sound; we're even tempted to have the speakers rated live – power to the audience."
The exhibition company is also providing 1,000 Free Flights.
"Inspired by the movie 300, last year we gave 300 flights to affiliates. The initiative went down very well with affiliates and operators, so this year we're stretching our budgets by inviting 500 NEW affiliates and also 500 top C level executives, mostly CTOs, CPOs, CEOs, COOs – to keep the B2B side of the business equally busy with a fresh bloodline of potential customers. Exhibitors are encouraged to invite VIP guests, flights on us, and throw a string of hospitality events around SiGMA. After all, Malta lends itself quite well for hospitality."
Following a successful first run in 2016, the Startup Pitch where 100 startup companies will get a free booth at SiGMA, invitations to networking events and SiGMA PR.
But only ten startups will be shortlisted to make it to the final. Ten finalists will have a chance to take their business to the next level and get themselves in front of seven investors to master the three-minute pitch.
On Friday November 24, ten promising start-ups will try to capture the attention of the leading industry veterans while competing for the potential funding, mentoring and contacts.
Mr. Pulis explained: "Our launch of the SiGMA startup pitch went really well, with some startups landing lucrative offers. We intend keeping our unique, swift format of a three minute presentation, followed by a seven minute grilling session with the investors. This year, however, we'll invest heavily on this front by giving startups who qualify the possibility to, not only pitch, but also get exposure on our magazine, website, exhibit at the show at no cost. We will also offer office space t our new Gaming Hub, Msida Skatepark, Malta, for a full year to the top three startups who wish to use Malta as a base for business development or even relocation – the office space comes with full consultancy from a team of grizzled industry veterans. "
Related Stories