By
Phil
- 11 June 2018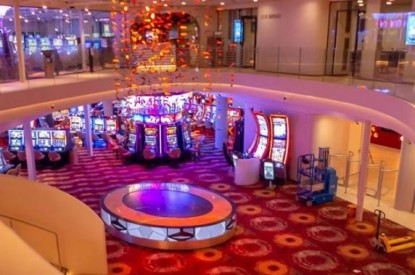 Holland Casino has now opened its casino in the former KPN building known as Ven, located close to Amsterdam Sloterdijk railway station in the west of the capital.
The operator has transferred its licence for a casino at Schiphol Airport to open the 5,000 square meter venue that can accommodate up to 2,000 guests.
Casino Manager Robin Hanzon said that the property has 503 slot machines spread over two floors, 12 gaming tables of which six are roulette and six card tables, along with live bingo and a restaurant.
CEO of Holland Casino Erwin van Lambaart said: "I am proud that after 12 years we can open a new casino where our guests can experience a successful evening. The casino looks progressive and offers the latest and most exciting game of which many are exclusive at Holland Casino. This new branch also shows that businessis going well with Holland Casino. "
The casino has a live connection with roulette allowing customers to play on tables in for example Rotterdam or Venlo.
Mr. Lambaart added: "It is a beautiful casino at a top location where guests can enjoy the fun of the game in a safe and responsible manner. It is fast and easy to reach for guests from both Amsterdam and outside the city. As part of a unique concept in 'Ven', I think that we can also achieve synergy. With its hotel, restaurants and a casino, 'Ven' offers an exciting and diverse line up.
"This is an important step for the future of Holland Casino. Our casino at Schiphol Airport was not profitable and a modern casino with a few updated concepts at this location will enable us to strengthen our position. Like the casino in the centre of Amsterdam, the new casino has a complete range of products and appeal to both our current and a new target group," he added.
The casino is Holland Casino's most innovative and contemporarily designed casino to date offering guests live entertainment, cutting-edge fun and games and a large state-of-the-art car park facility.
David Zisser, President and CEO, Omnam Investment Group. the company behind Ven's transformation, said: "The Holland Casino brand is a perfect addition to our concept and a positive partnership which will enhance the 24/7 entertainment experience for increasing numbers of global guests as well as locals. Holland Casino share our dynamic vision to bring life, colour and energy into Sloterdijk which will help transform the area into an exciting future destination."
The casino has opened alongside the newest and largest Park Inn by Radisson convention hotel, designed by world-renowned designer Karim Rashid, alongside a new aparthotel from the dynamic global B-aparthotels brand and an eclectic mix of facilities, such as spa and fitness, rooftop bar and restaurant, meeting facilities and dining experiences, all rotating around a central piazza.
Mr. van Lambaart added: "With its ease of access, large parking facilities and the enormous potential Amsterdam Sloterdijk holds, Ven is the perfect location for a new and modern Holland Casino. The new Casino is going to be strategically very important for the future of our brand and our ambitions when it comes to guest experience."
Etienne van Unen, Partner | Director Retail Colliers International, added: "Ven is a landmark project in Amsterdam, bringing the kind of major mixed-use business and leisure complex to the city that until now was only available in other global capitals. The complex is one of a kind and will be an example for the city's future area redevelopments."
Related Stories