By
Phil
- 24 November 2015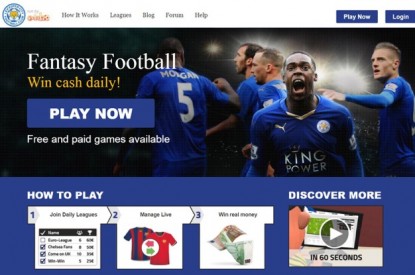 Global daily fantasy football platform Oulala.com has become the Official Fantasy Football Partner of Premier League football club, Leicester City.
This is the first partnership established by Oulala with a Premier League football club.
The deal will involve a bespoke Leicester City version of the Oulala fantasy football game, which has already been created, being made available to fans. The new game debuted ahead of Leicester's Saturday's Premier League victory, which propelled them to the top of the league.
The new game will give Leicester City fans from around the world the opportunity to challenge fellow supporters in head-to-head fantasy battles, with the aim of winning money with their successful teams.
This unique partnership will also provide Oulala with extensive exposure within Leicester City's stadium, as well as upon LCFC.com, the club's digital channels and within match day programmes.
Launched by Malta based entrepreneurs Valery Bollier and Benjamin Carlotti in 2013, Oulala unveiled the monetized version of its platform in the UK last month.
The only daily fantasy football platform based on skill as opposed to luck, Oulala has created a unique scoring system, using historical data provided by Opta. The Oulala game implements a points system based on more than 70 different criteria, which enables the game to be as close as possible to football reality and rewards users based on their football knowledge.
Valery Bollier, CEO of Oulala Games Ltd said: "This partnership is symbolic for Oulala. Leicester City has been able to do great things, and the club has enjoyed a fantastic start to the season. We believe there are a number of synergies between their business and ours, and that we share many of the same values. Oulala is proud to be partnering with such an efficient, forward thinking organisation, one which we believe will continue to go from strength to strength."
Ian Flanagan, Commercial Director at Leicester City Football Club, added: "We're delighted to partner with Oulala to bring supporters a new way to game here at Leicester City. Fantasy Football is a relatively established platform in the UK and this will give supporters the chance to pick their sides on their own bespoke-branding LCFC website. This partnership also adds to our global appeal – Fantasy Football is a huge and growing industry in countries such as the US and it will provide those Foxes supporters Stateside and elsewhere an opportunity to take part in the LCFC experience."