By
Phil
- 6 December 2022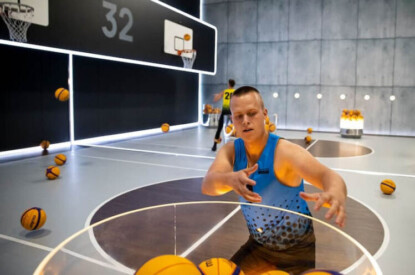 Twain Sport, the newly launched live sport vertical from the Hybrid Sports League and BetGames, is set to make its landmark debut in Africa thanks to a new partnership with Super Group-owned Betway.
The revolutionary hybrid sport product will be available to Betway's significant customer base in the leading South African market as well as across the continent where the major brand operates.
The launch is set to bridge the gap in demand for increased live sport with high-frequency entertainment, which is in strong demand from the next-gen player, with Twain Sport already proving hugely popular.
Partner company BetGames has long enjoyed an impressive foothold across regulated African markets, with the SBC Award-winning studio's instrumental heritage providing a crucial platform for Twain Sport's fast-growing popularity.
Twain's Sport's launch offering, T-Basket, is the first that will hit the market, delivering head-to-head basketball tournaments every hour and a match every three minutes, totalling 6300 monthly.
African bettors will have a wealth of betting markets available to them to enhance the experience, via an intuitive mobile-first designed UI, with the initial launch expected to attract multiple audience demographics.
T-Basket features professional athletes competing head-to-head to score the most points in 60 seconds. With eight players in a tournament and a new game every three minutes, a full tournament experience is broadcast in just one hour with 14 tournaments and many hours of action every day.
Commenting on the deal, BetGames' VP Sales, Africa, James Everett said: "Africa as a whole is a hotbed for sports betting and the Twain Sport proposition is perfectly suited to match the rapidly-growing demand for contemporary entertainment in the space.
"We expect T-basket and then T-kick to make a real impact with Betway. As one of Africa's most trusted names in betting we couldn't have hoped for a higher profile partner to get started with – the opportunity this represents cannot be understated."
Mark Rowles Head of Marketing at Betway, added: "We're excited to launch the Twain Sport offering across our African markets and look forward to seeing the traction of this innovative new feature across our existing offering"
Following the success of T-basket, the exciting supplier brand will compound its impact with a further new sport in Q1 2023 when T-kick makes its debut in the famously football-mad continent and all other markets where it is currently live.
Twain Sport delivers a similar sporting schedule to Esports and Virtual Sports and offers best-in-class
integrity measures using Sportradar's Fraud Detection System. This sits alongside stringent anti-match fixing protocols, providing operator partners with the world's very best protection.