By
Phil
- 5 April 2016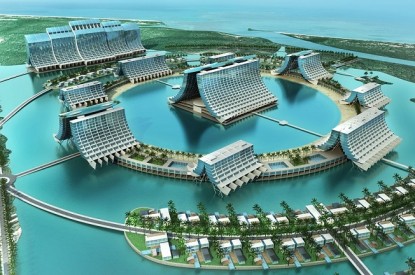 Aquis Great Barrier Reef Resort in Australia is to proceed with its bid to bring a spectacular A$8bn water-resort to Cairns without a casino as part of the project.
The project's Hong Kong –based owner Tony Fung has ditched the casino for now, saying he might return to it at later date, meaning a casino licence could now soon be up for grabs in the region.
Aquis was awarded preferred developer status for a regional casino licence for its project in Cairns at Yorkeys Knob last year.
The company stated: "Our priority is advancing the real estate approvals for the project and we hope to have these done by the end of the year. We will address the casino approvals at a later date."
Queensland Treasurer Curtis Pitt added: "The government has accepted that the Aquis Group no longer requires to remain in the integrated resort development process to see this development progress. I understand that changing market conditions will see a change in the design concept. There's nothing preventing the future consideration of a casino operation at the Yorkeys Knob development. That would, however, be subject to the availability of the regional IRD licence. But I have to stress that there will be no preferential consideration for a casino licence in the future if a later application is made."
The original plan was to operate 750 tables and 1,500 slots at the resort which would also include nine hotels with 3,750 rooms, one of the world's largest aquariums, a 25,000-seat sports stadium, 1,200 apartments and 135 villas, high-end retail shopping, theatres, a 13-hectare reef lagoon, 18-hole golf course, a convention and exhibition centre.