By
Phil
- 30 August 2017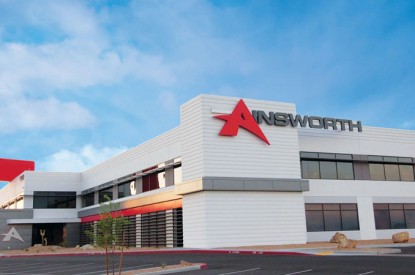 Ainsworth Game Technology has reported Profit after Tax of $37.9m for the year ended 30 June 2017, exceeding guidance by 2.5 per cent.
Ainsworth delivered a strong second half performance, with $42.2m Profit Before Tax, an increase of 178 per cent on the $15.2m reported in the first half.
Chief Executive Officer Danny Gladstone said: "We continue to expand on strategies to broaden and diversify product offerings in established and new markets. With the introduction of new technologies and an increased range of innovative content, we expect to progressively grow market share and profitability across international and domestic markets. International sales account for 74 per cent of the group total. Our Latin American business has delivered five years of consistent profitable growth across all markets. In FY17 the number of machines on participation in this region, which provide recurring revenue streams, increased by 48 per cent. In North America, the recently launched Pac Man licensed product is growing strongly and the now fully integrated Nova Technologies is driving solid growth in Class II markets. With our new facility in Las Vegas enhancing our game design and sales capabilities, we are well placed to deliver on, and expand our strong pipeline of new orders. Encouragingly there are some early signs of recovery in domestic markets. Sales in Australia in 2H FY17 increased by six per cent on the prior corresponding period (pcp), with New South Wales increasing 20 per cent over the same period. We expect to continue to increase market share over the coming year. Our new EVOTM cabinet and broader game suite, which we launched at the Australasian Gaming Expo (AGE) earlier in August have been positively received."
Sales revenue for the FY17 year was $282.1m, a slight decrease of one on the pcp. Modest growth in international markets was offset by a weaker domestic performance.
Domestic revenue was $74.1m, accounting for 26 per cent of total revenue, nine per cent lower compared to $81.5m last year. Sales to corporates and casinos were minimal in the period.
The Latin American segment reported another year of improved performance with revenues increasing by five per cent and profits rising by 11 per cent. Sales were up in every market across the region. Mexico, Ainsworth's largest market in the region saw increased penetration and now accounts for 39 per cent of total sale units.
North America reported revenues of $101.4m for the year, a decrease of nine per cent year-on-year. A highlight of FY17 was the successful launch in North America of the Pac Man Wild Edition on the A640 cabinet. This licensed product is gaining significant market traction with over 350 machines under gaming operation and growing.
Mr. Gladstone said: "Ainsworth has developed a strong presence in the key North American market. The new Las Vegas facility which opened in April 2016 is enhancing our profile and representation with customers and has broadened our platform for future growth. Our new game studio there will continue to expand our US game content with the release this year of several new game titles. Class II games will also be strengthened, leveraging well known Class III titles. Several of these games have been developed using game assets licenced to Ainsworth from Novomatic AG. The pipeline for new sales and units under gaming operation in North America in FY18 is strong. Ainsworth will deliver on its largest ever installation of games in our history this year with 270 games being placed at the new Four Winds South Bend property in Indiana, USA. In July, Tulalip Resorts Casino in Washington agreed to serve as a sponsor for testing in this new market. This creates significant new sales opportunities for us in what is the fourth largest gaming market in the US behind states like Nevada."
The Rest of the World segment delivered a strong result with a profitable margin contribution from sales to Novomatic AG. Segment revenue was $28.1m, an increase of 54 per cent compared to 2016. This strong result was primarily attributable to sales contributions from Asia and Europe. Product distribution opportunities with Novomatic AG added $11.4m in sales and $5.5m in profit."
Related Stories