By
Phil
- 15 August 2018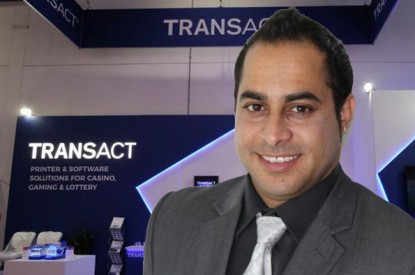 TransAct is making huge strides in Asia and Australia with a series of massive deals for the company across the region although it insists its strategy remains very much 'one printer at a time.'
In March, MGM Cotai opened equipped with TransAct's Epic 950 casino printers across the entire floor, a deal which also saw the existing MGM Macau property remove and replace all the incumbent printers and replace them with Epic 950.
TransAct's Vice President of Global Gaming in Asia Pacific, Rashid Suliman said: "This was a huge win for the company and comes on the back of five of the last six new openings in Cotai installed with TransAct across the floor. Australia has also proven to be a great market for the Epic 430 and Ithaca 9000 printers, which are our robust, high-end point of sale printers used in electronic betting terminals. Nagaworld in Cambodia has also turned to the Epic 950 for the opening of the Nagaworld 2 Casino. We also notched up important new opening wins at Imperial Pacific Resort Hotel in Saipan and Corona Casino at Phu Quoc in Vietnam. The Corona property will open later this year with Epic 950 printers across their expansive floor. The Epic 950 has proven itself time and time again across the world and continues to win a growing following of fans with its robustness and reliability.
TransAct's strategy with the Asian Pacific region has always sat a little differently.
Mr. Suliman explained: "Although we have had the same global distributor as the rest of the company, we have always been out on the road generating business with the manufacturers and creating excitement for our products with operators across the region. Because of the geographic size of the region, rather than try and cover the whole market directly, we appointed regional sales partners who could focus on their local market and give customers the best possible sales and support experience. We are still out there visiting customers and building the TransAct experience, but we have found that supplementing this with local partners who know their customers' needs is much more efficient than having a sole global partner. As such, we have recently appointed two new partners, signing agreements with Asia Pioneer Entertainment (APE) in Macau and The Bright Group (TBG) in Australia."
He predicts that The Philippines and Japan will garner much growth in the gaming industry. "The Philippines is a steadily growing market with casinos set to open outside Manila, along with the continued expansion of existing properties," he explained. "It has been a happy hunting ground for us in recent years and we hope to expand on that success. Japan is also of huge interest and TransAct has already appointed a sales partner for that region in preparation for this. When Japan opens up, we will be in a great position to take advantage of any opportunity."
"We also look forward to increasing our visibility in the Asian Pacific region with Epicentral, which is our promotional marketing system and the gaming industry's only enterprise-level promotion and bonusing software suite," Mr. Suliman added. "This software allows casino operators to target and deliver promotions to customers in real-time directly at the slot machine and electronic table game. Capable of working with all existing slot management systems and games, regardless of manufacturer, Epicentral provides casino slot and marketing teams with the unparalleled ability to create a floor-wide bonusing environment that has been proven to drive increased time on device and, ultimately, increased revenue for the casino operator. We've seen much success with this software, and we believe casinos in Asia will also find it to be a very valuable tool to increase their revenue."
TransAct designs award-winning Casino, Gaming and Lottery printers chosen by operators around the world. With the flagship Epic 950 and new Epic Edge slot machine printers along with TransAct's robust Epicentral software, casino operators can print targeted promotions and offers to players from the slot machine – in real-time.