By
Phil
- 16 November 2023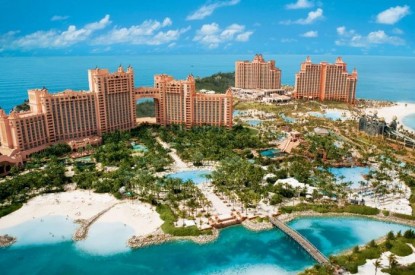 Atlantis at Paradise Island Resort and Casino, the most remarkable destination resort in the world and entertainment leader in the Caribbean, marked its 25th anniversary with a three-day celebration. From 10-12 November, the famed resort welcomed guests, VIPs and celebrities with a series of events and festivities to commemorate its quarter-of-a-century milestone.
The celebration began on Friday, November 10, when celebrities jetted to the Bahamas by private plane. Upon arrival to Atlantis Paradise Island, they checked into Regal Suites at The Royal and received specially curated gifts of handmade Bahamian straw purses, a signed Paradise Island coffee table book by famed photographer Alessandro Sarno, and accessories from the resort's luxury Crystal Court Shoppes' Saint Laurent and Carlo.
On Friday evening, guests gathered for the official opening of Michelin-starred Chef Michael White's new Paranza restaurant. Adrien Brody, Georgina Chapman, Marcia Gay Harden, Katie Couric, Tony Danza, Jennifer Esposito, Cynthia Rowley, Kit Keenan, Skylar Astin and many others gathered outside of Paranza for pre-dinner cocktails before joining Chef White in the dining room designed by Jeffrey Beers International. The menu featured some of Paranza's signature items including Crudo, homemade pasta, and Swordfish.
Other celebrities in attendance all weekend long included Helena Christensen, Camilla Stærk, Alex Lundqvist, Nico Tortorella, Amber Ruffin, Jihae Kim and more. Stars spent time in The Royal's marvelous Bridge Suite for a private afterparty with impromptu performances around the suite's piano enjoyed a beach and pool day at The Cove's exclusive cabanas, zipped down Atlantis' water slides and experienced rides at Aquaventure. Katie Couric and Kit Keenan also took photos at the resort's famed Poseidon's Throne.
Saturday night began with The Bal de Royale, an extravagant affair that included a blue carpet arrival and a cocktail reception with welcome remarks from Tony Danza. Celebrity and VIP guests then dined in Nobu, where DJ Kim Lee from Netflix's Bling Empire set the party mood, and at Atlantis' recently opened Mediterranean restaurant, Silan from James Beard Award-winning Chef Alon Shaya.
Following dinner, the celebration moved on to Atlantis Casino's brand-new Bar Sol where famed jazz singer and pianist Peter Cincotti dazzled guests with an entertaining set that included an impromptu song by Tony Danza on his ukulele, which Katie Couric handed off to him. The evening's festivities ended with a midnight performance by five-time GRAMMY Award-winner CeeLo Green. CeeLo's set included hits such as Crazy, Forget You, Sweet Child O' Mine and All Night Long.
Atlantis Paradise Island closed out its 25th-anniversary celebrations and festivities with a soulful gospel brunch on Sunday led by legendary singer BeBe Winans at the renowned Café Martinique in Atlantis' Marina Village. BeBe wowed the crowd with over two hours of music. Katie Couric, Peter Cincotti, Nolan Gerard Funk, J.R. Ramirez and Cory Michael Smith shared the microphone with BeBe as he moved around the restaurant and brought the crowd to its feet. Nico Tortorella and his wife Bethany Meyers danced with their infant daughter throughout the brunch.
Throughout the last year, Atlantis Paradise Island embarked upon a new chapter for the celebrated destination, including multi-million-dollar renovations – from the complete renovation of The Royal Towers to a reimagined Atlantis Casino; the addition of culinary outlets including Michelin-starred Chef Michael White's Paranza, Silan by James Beard Award-Winning Chef Alon Shaya, and Shake Shack's first Caribbean outpost; and a series of experiential programming and partnerships.
"This past weekend, we celebrated 25 years of Atlantis Paradise Island with a multi-day, star-studded extravaganza that included the best of the best in entertainment, food and beverage, events and accommodations," said Audrey Oswell, President and Managing Director of Atlantis. "25 years ago, Sol Kerzner, the founder and developer of this fabulous resort, paved the way for Atlantis to serve as a catalyst for the resurgence of tourism throughout The Bahamas. We are proud of the legacy Atlantis has built over the past quarter of a century and cannot wait to see what the next 25 years have in store."