By
Phil
- 26 March 2019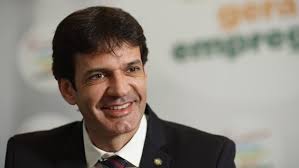 The Brazilian Tourism Minister, Marcelo Alvaro Antônio, has said that the government should start a debate in Congress about the possibility of allowing casinos in integrated resorts in tourist centres.
The measure was also defended by the mayor of Rio, Marcelo Crivella. The minister, however, made it clear that this is not a topic that will be discussed in the short term, arguing that instead there are other tourism related issues that have more priority.
"I think that a broader issue hasn't the (necessary political) environment to be approved in Brazil, but the casinos integrated into resorts are an inevitable discussion, since 95 per cent of developed countries already allow it and Brazil will not be different."
For his part, evangelical bishop and mayor of Rio de Janeiro, Marcelo Crivella defended the installation of a casino resort in the Porto Maravilha region in Rio de Janeiro. The issue was addressed at the meeting between Presidents Jair Bolsonaro and Donald Trump, in Washington when the two met in Washington earlier this month. Crivella stressed that he has already talked about the matter with Economy Minister Paulo Guedes. "Whoever believes it is a sin should not play," he said.
Speaking to local press recently Crivella confirmed that for him casinos would provide an economic boost and jobs. "American businessman Sheldon Adelson, president of Las Vegas Sands, proposed investing 20,000 million dollars in the construction of an integrated resort in the region of Porto Maravilha, in the case that gaming is legalised," he said. "It is important to underline that the investment is not only for the construction of a casino, the project foresees a tourist complex, which will generate 50 thousand jobs and must increase the number of tourists fivefold."
In May 2017, Adelson met with standing Brazilian President Michel Temer and several government officials to pitch an $8 billion casino project in Rio de Janeiro. Adelson alongside a number of other businessperson and local politicians also met with Mayor Crivella. Crivella said at the time that he hoped to be able to count on Adelson in the future when it came to the development of the region of Porto Maravilha. Operation Porto Maravilha is an urban renewal project in Rio de Janeiro's Downtown Port Zone, involving an area of 5 million square meters and aimed at completely changing Rio de Janeiro's neglected port area.
In May 2018, Sheldon Adelson was once again in Brazil to discuss the establishment of integrated resorts in Brazil.
Caption: Brazilian Tourism Minister Marcelo Alvaro Antônio