By
Lewis
- 21 September 2018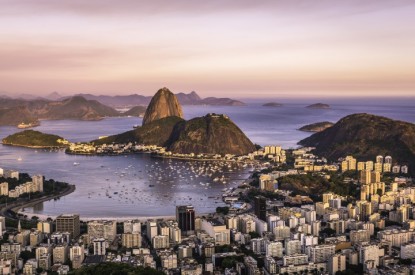 The President of Brazil's Chamber of Deputies Rodrigo Maia has said that casinos could double the amount of tourists coming to Brazil. Maia argued for large-scale casinos and resorts while speaking in front of Clube do Feijão Amigo (The Friend Bean Club) at its fortieth anniversary meeting. The club has strong links to the tourism industry. Speaking in front of around 400 guests Rodrigo Maia highlighted the challenges and objectives that the House still faces in order to improve the tourist industry in Brazil. This he said would include giving casinos the green light and the approval of a new Tourism Law scheduled for debate after the Brazilian general in election in October.
"We are discussing permitting games. However, there needs to be mobility throughout Brazil so that this can be approved. It is one thing to approve the games that have a direct relationship with tourism; another is to enable games that end up making this strategy of bringing more casinos and investments to the country impossible," said Maia. "Once approved, the casino law will double the number of international tourists," he added.
Maia has been a long time supporter of large-scale casinos as part of entertainment complexes and resorts. Maia was first elected as President of the House in July 2016. He has played a key role in government policy namely cutting public spending and opening up the economy. His comments are significant as it means that there is still impetus for a limited opening up of the market and restricting gaming to large-scale Las Vegas type resorts.
A quick way to allow for casinos only would be via amendments to Brazil's tourism laws but this in turn has proven to be extremely controversial amongst those who wish to see a much larger expansion of the market. The inclusion of casinos as part of the General Law of Tourism would mean that other types of gaming would be left out.
In March Deputy Paulo Azi, who oversees the Chamber's Tourism Committee, pushed for a single urgency vote on tourism which would have bypassed the need for further committee input and move the tourism bill to a vote by the full Chamber and added the casino only clause as a last-minute addition to the legislation. However, this caused uproar amongst a number of members of the house such as Deputy Joao Carlos Bacelar who has come out in support of an all or nothing approach when it comes to opening up the market as well as other members of the Parliamentary Front for the Legalisation of Gambling, which is now made up of 262 deputies. The front supports the approval of all types of gambling.
A month later, members of Brazil's Chamber of Deputies agreed to remove integrated resort casino language after Azi declared that there was "no agreement" on including the casino only proposal.
Related Stories