By
William
- 21 November 2022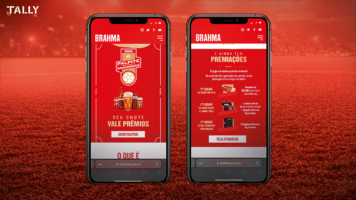 Fan engagement platform Tally Technology has announced a long-term partnership with AB InBev subsidiary, Ambev, to provide prediction games for Brazilian soccer clubs Atlético Mineiro and Cruzeiro.
The agreement follows a successful test period, in which sports sponsor Ambev successfully utilised Tally's predictions game to engage with fans during the Minas Gerais state championship final between reigning Campeonato Brasileiro Série A champions Atlético and Cruzeiro.
Having gained 4,000 registered players immediately after the game going live, Tally followed up with a product covering each of the two clubs' matches played in June 2022.
Ambev created a bespoke brand and developed a landing page where players could select games to predict, with the data collected from fans during each contest providing valuable insights for the brand. The programme included an offer for 30 per cent off the first beer home delivery order.
Brad Vettese, CEO of Tally, said: "Brazilian fans are well-known for their devotion to sports and in signing this deal with a brand on the scale of Ambev, it allows us to serve a large, highly committed, and energetic community.
"Ambev has shown great faith in us since we started working with them and it's gratifying to serve them with a unique fan engagement environment and a powerful data tool over the coming years. It's a partnership that we see as going from strength to strength."
Tally's relationship with Ambev began when it was chosen as a winner of the Golaço Challenge for start-ups in November 2021, after impressing the judges with its continuous fan engagement platform.
Having now signed a deal with Ambev to continue providing prediction games for Atlético Mineiro and Cruzeiro, across both the Campeonato Brasileiro and the Minas Gerais state championship, Tally is aiming to add more clubs and championships in future years.
Utilised by sportsbooks, broadcasters, leagues and teams to drive fan engagement and retention, Tally's platform is designed to create new revenues streams through sponsorship activations, player conversion and data creation.
Barbara Mundin at Ambev, commented: "As sponsors of Brazil's premier sporting events, we are always looking for new ways to build relationships with the country's hugely engaged, passionate fan communities.
"Ever since winning the Golaço Challenge, Tally Technology has impressed with its continuous fan engagement platform which has delivered both a fun, easy to play predictions game for supporters and highly valuable data-led insights for our brand."