By
Phil
- 19 September 2019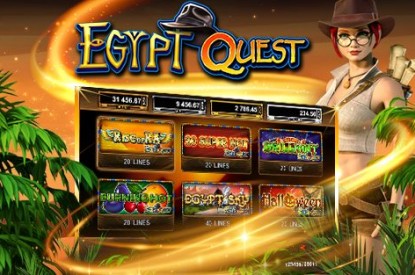 EGT Interactive has launched a new, distinctive bonus game with four-level bonus feature called Egypt Quest, in the Bulgarian market with WinBet, one of the most popular casino and sports betting operators in Bulgaria.
In addition, players have at their disposal multiple land-based gaming halls where attractive jackpots and great service are also available.
Todor Zahariev, CEO of EGT Interactive said: "We are pleased that we have added such an interesting and engaging product to our portfolio and that our trusted partner WinBet will be the one to present it to the Bulgarian audience for the first time. Egypt Quest differs from the familiar system with four levels of mystery Jackpot cards with a couple of features that add up to the new and truly different iGaming experience. High hit and retention rate, simple and user-friendly gameplay, plus two levels of winnings are just some of the benefits that users should look forward to. Another novelty is that a batch of six games participate in the Egypt Quest bonus game: Rise of Ra, Burning Hot, 20 Super Hot, Halloween, Circus Brilliant and Egypt Sky. They are familiar to the audience, but are now placed in a separate portal, so the players should have in mind that they are different games from the already known titles. Taking all this into account, we believe that we'll give the users another attractive chance to win."
Each of the Egypt Quest jackpot levels – Bronze, Silver, Gold and Platinum can be won through the special Egypt Quest bonus game which is triggered by special Egypt Quest symbols or randomly during the base games and the free spins. In the course of the eight Egypt Quest free spins, the player wins credits and collects special symbols "scroll". In order to win one of the jackpot levels, the player needs to collect a certain amount of credits that exceed a defined threshold and/or to collect 5 or more special symbols "scroll". The player may win each of the jackpot levels with any bet placed. However, the higher the bet in the base game, the better the chance to win the highest Platinum jackpot level.
Tsvetin Yordanov, Winbet's CEO, said: "The company has been on the market for a relatively short time, but for the years it operates, it has won great popularity among the Bulgarian fans of iGaming. The most important thing for us as a company is to keep up with the trends. Success in our business today – in the face of constant and rapid changes – means satisfying the demands of customers. Every lover of the casino entertainment knows this game very well and I'm very pleased that we managed to be the first operator to offer it on the Bulgarian market. We have a wonderful and fruitful partnership with EGT interactive and I would like to take this opportunity to express my gratitude for their support and unrivalled professionalism."