By
Phil
- 3 June 2014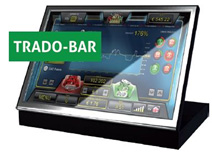 After the successful launch of Tradinator earlier this year, TradoLogic is now introducing TradoBar, another type of land-based solution with implemented games.
TradoBar is the latest innovation powered by TradoLogic. This is a new generation, land-based terminal for financial entertainment similar to the earlier introduced Tradinator. However, TradoBar has much smaller dimensions and supports a touch screen instead of a button board. This makes the machine even simpler to use and more entertaining. One of the main advantages of the product is the adjustable touch screen monitor. Furthermore, the design of the machine makes it easy to install, thus applicable for a wide range of locations including business offices and Trade Rooms.
"After launching Tradinator, we developed this new innovation targeted at the gaming world as we see the huge potential of the industry" says Ilan Tzorya, CEO of TradoLogic. "TradoBar is our next step towards positioning our company as a leading gaming software and hardware provider."
TradoLogic has developed a variety of games to be integrated in Tradinator and TradoBar. These are Markets Rally, Crazy Markets, Wild Trader, Bull and Bear, Forex Gump. The games are based on Turbo and Super Turbo binary option and deliver an exciting trading experience. Currently, three of the games are available online to be integrated in existing gaming websites.
TradoLogic's software brings new excitement to the players and gives them the chance to embark on a unique gaming journey.