By
Phil
- 13 November 2017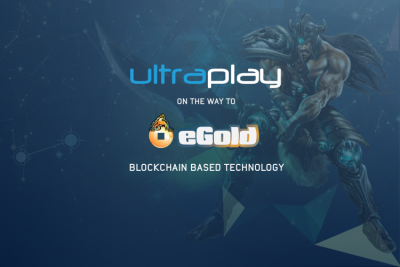 At the 10th edition of the Eastern European Gaming Summit (EEGS), in Sofia, Bulgaria, to be held on November 20, the advanced online betting provider UltraPlay will share insights on why Blockchain is the perfect match for betting as well as the rise of eSports betting and its future development.
Mario Ovcharov, CCO at UltraPlay and Elena Biserkova, B2B Manager for China will talk about Blockchain and cryptocurrencies in betting, the advantages of Blockchain for betting, a practical use case of the Blockchain advantages and traits, eGold – the ultimate eSports betting cryptocurrency and how to build a strong community that can unleash the unlimited potential of a Blockchain based project.
They will also predict future development implications of Blockchain into the iGaming world.
UltraPlay has recently introduced eGold – an eSports betting cryptocurrency aiming to unite all gamers worldwide by providing easy, quick and secure betting on the most favorite games. The new digital currency will be Ethereum based and will be firstly integrated on the eSports betting platform Buff88. The company plans to further develop the platform and offer a Blockchain-based betting.
"We are glad to open the hot topic discussion in Bulgaria on the Blockchain technology in the gaming sector and present our own experience with eGold.", said Mario Ovcharov, COO at UltraPlay.
The rise on eSports betting and its future development will be covered by Peter Ivanov, Head of eSports trading at UltraPlay. Leading Ultraplay's eSports team of traders, Mr. Ivanov has solid expertise in setting up and developing the eSports department, including pre-match & live trading, odds compilation and odds movement training as well as managing UltraPlay's daily trading process. From his long years of experience in eSports betting, he will talk about sleeping giants with the hugely popular game titles that have not entered the esports scene with their full potential, the challenges of offering live odds in esports, betting on esports – how to offer it so it is profitable and finally Golden Trio (League of Legends, Dota 2, Counter-Strike) – why are they so far upfront when it comes to esports betting.