By
Phil
- 23 June 2021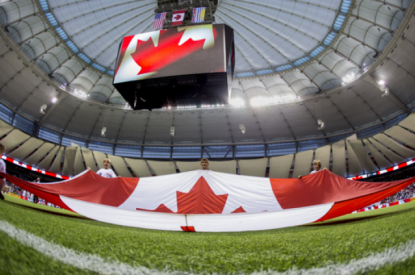 Single-event sports betting is coming to Canada with the Senate successfully passing Bill C-218, without amendment, at Third Reading. The bill is now eligible to receive Royal Assent and be proclaimed into force, allowing the Canadian gaming industry to begin working with provincial partners to offer single-event wagering to sports betting fans.
Bill sponsor Senator David Wells said: "We have been seeking this change for years and are ready to respond to it quickly and responsibly. While we can not dictate the regulatory practices of Canada's provincial governments, what we can do is make this modification to one line of the Criminal Code, thereby empowering them to safely bring single-event sports betting within Canada."
"This is a major milestone and achievement for the Canadian gaming industry," said Paul Burns, President and CEO of the Canadian Gaming Association. "The CGA has been working to legalize single-event sports betting for more than 10 years and Bill C-218 benefited from a groundswell of broad stakeholder support from across Canada. The need for regulation, oversight, player protection, and the creation of economic benefits for Canada was understood by everyone involved in the legislative process, which is why the Bill was successfully passed."
There are many government leaders, individuals and organizations that deserve thanks and appreciation for the team effort that led to the successful passage of Bill C-218. In particular, the CGA would like to thank Kevin Waugh, MP for Saskatoon-Grasswood, the Bill's sponsor in the House, and Senator David Wells, the Bill's sponsor in the Senate, as well as Brian Masse, MP for Windsor West, who has been a long-time advocate. The CGA would also like to recognize the late Gord Brown, MP from Leeds-Grenville-Thousand Islands and Rideau Lakes, who prior to his sudden death was a tireless champion of single-event sports betting.
Thank you to the witnesses that appeared before parliamentary committees, and to the organizations that submitted written briefs. A list of Bill C-218's supporting stakeholders is available at bettersportsbetting.ca.
"The serious and thoughtful consideration of Bill C-218 by Senators and Members of Parliament will dramatically improve the ability to offer sports betting in Canada and provide an important competitive tool for an industry that has been severely impacted by COVID-19 shutdowns," stated Carrie Kormos, Chair of the CGA.
Following Royal Assent, provinces will have the authority to deliver a safe, legal, and controlled sports betting option to Canadians, and to enact strong regulatory standards. Shortly after Bill C-218 receives Royal Assent, British Colombia Lottery Corp. will enable PlayNow.com players to wager on the outcome of a single game or match.
"This is a huge win for PlayNow.com players, and British Columbians overall," says Lynda Cavanaugh, BCLC's Interim President and CEO. "We're excited to soon provide our players these new offerings on PlayNow.com, which is B.C.'s only legal gambling website and delivers important revenue back to the Province of B.C. to support things like healthcare, education and community programs."
theScore estimates a market potential for online gaming in Canada of between US$4.3bn and US$5.4bn in annual gross gaming revenue, based on historical data extrapolated from legal online gaming markets in the US and globally.
The province of Ontario is a market that would be equivalent to the fifth largest US state by population. theScore estimates a market potential for online gaming in Ontario of between US$1.7bn and US$2.1bn in annual gross gaming revenue, based on historical data extrapolated from legal online gaming markets in the US and globally.
"The Senate's passing of Bill C-218 is an historic moment for Canada as it will legalize single event sports betting," said theScore Chairman and CEO, John Levy. "We thank MP Kevin Waugh and Senators David Wells and Brent Cotter for championing this Bill, which garnered strong all-party support through both the House of Commons and Senate. The passing of this important legislation allows theScore, along with our fellow stakeholders, to collectively usher in a robust industry that will drive business, technology innovation, employment and economic growth while providing a safe and trusted environment in which Canadians can wager on sports.
"The forthcoming legalization of single event sports betting presents a substantial growth opportunity for our integrated media and betting business. theScore is Canada's leading digital sports media brand and we are eager to bring our award-winning mobile sportsbook, theScore Bet, to fans on our home turf. We have been actively preparing for the expansion of online sports betting and iGaming in our home province of Ontario, which is expected to commence later this year, and we are very favorably positioned to succeed given our mobile betting experience and vast active user base. Further, we are excited to broaden our relationship with the millions of loyal fans who already know, trust and engage with theScore app across Canada.
"Canadians will now be able to reap the numerous benefits resulting from a comprehensive, regulated sports betting framework that protects consumers, creates jobs and generates critical tax revenue. The passing of this legislation is momentous, and we are confident that Canada will embrace legal sports betting and become a leader in this rapidly developing and cutting-edge industry. We look forward to continuing our collaboration with the provinces to ensure the establishment of a safe marketplace that provides a suite of reliable and trusted options for consumers."