By
Phil
- 27 April 2015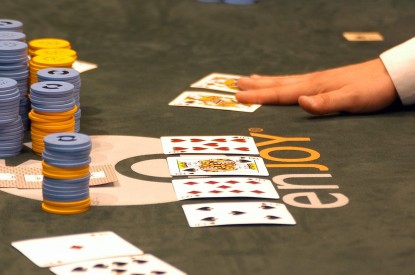 Chilean gaming company Enjoy could soon be expanding its operations in Latin America with both Colombia and Peru in its sights.
General Manger of Enjoy, Gerardo Cood in an interview with local press, said that the company had recovered from the difficulties of 2013 when Chile imposed its smoking ban.
The smoking ban, which went into effect on March 1 2013, banned smoking in closed areas such as pubs, nightclubs restaurants and casinos. With a smoking rate of around 40 per cent Chile has the highest percentage of smokers in Latin America. The company was the first in Chile to open up a specially designed outside smoking space on its premises.
According to Cood the company has also, after major restructuring of its executive staff and a focus on customers with a higher spend, is now in a position to look into other markets in Latin America. Average expenditure rose 20 per cent in its facilities in Enjoy in Santiago while revenue at the end of 2014 increased 17 per cent and its EBITDA 168 per cent compared to 2013.
As a result the company is looking to possibly expand in the region into new markets for the company such as Colombia.
"I do not see a future with much growth in Chile because it is already a mature market," Cood said "and for that reason the company could benefit from the expansion into other well regulated markets such as Colombia and Peru.
"We are exploring options in 2015. We have nothing signed nor are we in talks with anyone. It's an alternative that is based on the knowledge that I have of these markets and what I've seen looks very attractive," he said. "To achieve higher occupancy in my current hotels and casinos we could generate sales offices in Peru, Colombia and even in Ecuador. So we are leveraging the infrastructure but without over investing, to fill up places more with the best customers who spend more," he said.
Enjoy is the leader of the Chilean casino industry with around 37 per cent of the market and recorded sales of US$325m in 2012. The company operates over 6,000 slot machines, 274 tables and 860 bingo seats in Chile. In Chile the company operates seven casinos. It also operates two other casinos in Argentina and Uruguay.
The company's improved outlook has also helped by its recent purchasing of the Conrad hotel and Casino in Punta del Este, the largest in South America. In May 2013 the Uruguayan government approved a deal where the operator of the Conrad hotel and casino in Uruguay switched from Baluma SA to Enjoy SA meaning that Enjoy took control over the Conrad. The deal was first announced in November 2012. Earlier in 2013 reporting to the Superintendence of Securities and Insurance, Enjoy's financial results for the financial year 2013, showed an unprecedented profit of US$25m thanks in great part to the Conrad deal.