By
Phil
- 14 July 2016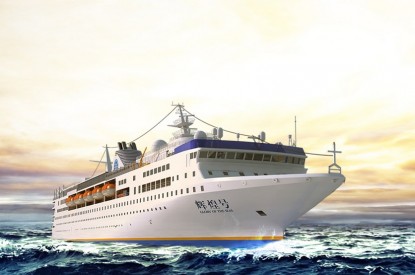 Century Casinos has opened a casino onboard the Glory Sea of Diamond Cruise International Co., Ltd. on it's maiden voyage from Shanghai, China to Shimonoseki, Japan.
The Glory Sea has a capacity of over 1,200 passengers and will focus on the Chinese cruise market with four-day trips between China, South Korea andJapan. The state-of-the-art casino features an initial gaming mix of 40 slot machines as well as 16 live gaming tables (including Baccarat, Black Jack, Three Card Poker, American Roulette and Sic Bo).
The casino will cater to regular cruise passengers as well as VIP players provided by junket operators.
Diamond Cruise International, a subsidiary of travel conglomerate Suzhou Taihu International Travel Agency, intends, in the next five years, to acquire an additional three to four ships in an effort to compete for supremacy in the fast-growing Chinese cruise market.
"We are excited to enter the Asian gaming market and to increase our position as the world-wide leader in operating casinos on cruise vessels through a long-term agreement with Diamond Cruise International. This is a very cost-effective way for our company to gain a foothold in the lucrative Chinese market and certainly has the potential to grow our ship-based casino segment to a very meaningful size," remarked Century Casinos' Co CEOs Erwin Haitzmann and Peter Hoetzinger.
In other news, Century Casinos, announced the successful opening of the casino onboard the TUI Discovery of Thomson Cruises.
The TUI Discovery of Thomson Cruises, a subsidiary of TUI Group, the world's number one tourism business with 1,800 travel agencies in Europe, six airlines with more than 130 aircraft, over 300 Group-owned hotels, and 13 cruise ships, has a capacity of over 2,000 passengers highlights an outdoor cinema, a rock-climbing wall, a mini-golf course, a five-story atrium and an indoor pool.
The casino on the TUI Discovery features 12 slot machines, three live game tables and an electronic gaming table.