By
Lewis
- 18 May 2016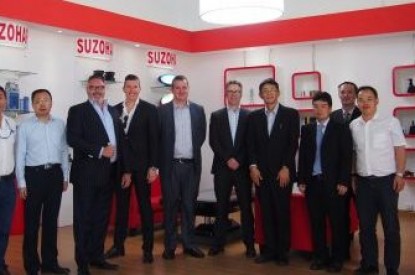 SUZOHAPP places great importance on providing solutions with the very best quality assurance, which means a continual investment programme in the SUZOHAPP manufacturing sites.
On its most recent world tour, the European management team was able to see at first hand the latest developments at SUZOHAPP China. Both Harald Wagemaker (Executive Vice President Sales & Marketing of Gaming and Casino EMEA) and Goran Sovilj (Regional Sales Director) expressed how impressed they are with continued dedication SUZOHAPP places in ensuring its manufacturing sites excel in all areas.
Mr. Wagemaker and Mr. Sovilj took the opportunity to oversee the new fully automatic injection molding machines and an automated conveyor belt system that can transport all manufactured plastic parts to a central location – further strengthening SUZOHAPP's logistics and product flow. Highlights also included the new assembly Cells that reflect a further expansion of the SMT machinery that has doubled available capacity.
Mr. Wagemaker commented: "We are a global team at SUZOHAPP and we all work together. Our customers benefit from our international experience. This was obvious to see during our visit to SUZOHAPP China. I would like to express my thanks to David McNair, SVP operations Asia, and his team for explaining just how much effort and time is being invested. It was a pleasure to see how our 'Continuous Investment Program' is being implemented with the greatest of dedication and focus."