By
Phil
- 10 May 2017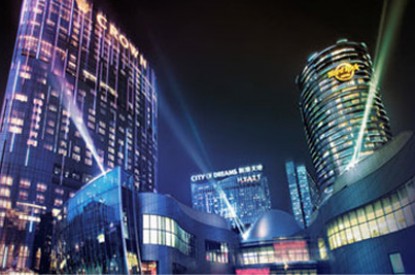 Crown Resorts has now completely left the Macau casino sector, selling off its remaining shares in Melco Crown Entertainment.
Crown said in a statement: "Crown Asia Investments has entered into an agreement with Melco Resorts & Entertainment for the repurchase of its remaining interest in Melco Resorts. Under the Repurchase Agreement, CAI has agreed to sell 165.3m Melco Resorts ordinary shares which represents 11.2 per cent of Melco Resorts ordinary shares for a price of US$7.04 per Melco Resorts ordinary share. The Repurchase Agreement is expected to complete on 15 May 2017 subject to customary conditions to completion. Upon completion of the Repurchase Agreement, Crown Resorts will no longer hold an interest in Melco Resorts and consequently, the company will no longer be entitled to a seat on the Melco Resorts Board and Mr Robert Rankin will resign as a non-executive director of Melco Resorts."
Melco has since rebranded the company Melco Resorts and Entertainment.
Melco's Chairman and Chief Executive Officer Lawrence Ho said: "It is with great pride that I look back over the past decade and recognize all that we have achieved in partnership with Crown Resorts at Melco. This transaction brings to conclusion the world's most successful global gaming partnership, highlighting our ability to work with partners in both good times and more challenging operating environments. I would like to personally offer my sincere thanks to Mr. James Packer and Crown Resorts for being a great friend and partner for the past decade.
"Looking forward, I am extremely excited about the company's future. Our World-class and dynamic management team and innovative and market-leading integrated resorts place us in an exceptional position to continue our evolution into the leading premium-focused, integrated resort developer and operator in the World.
"Despite our positive history with Crown, I made the strategic decision to terminate the joint venture arrangement and allow Melco to pursue Japan alone. This highlights our confidence in, and commitment to, identifying and evaluating new markets which will drive long term shareholder value while contributing to the development of tourism and delivering other economic benefits for our host cities where we operate. This is highlighted by our decision to develop a World-class, tailor-made integrated resort in Manila, giving us exposure to the fastest growing gaming and entertainment market in the World. Our experience gives us strong confidence to enter new markets by working in concert with local partners.
"While Crown is exiting its remaining position in Melco, I feel even more confident today of Melco's prospects than I did a year ago when our Company completed the redemption of over US$800m worth of shares from Crown Resorts in May 2016 at US$15.50 per ADS, and Melco International's, a company of which I am Chairman and majority shareholder, completed its purchase from Crown Resorts US$1.2bn worth of our Company's shares in February 2017 at a price of US$18.00 per ADS (unadjusted for the special dividend our Company declared in January 2017 in the amount of US$1.32 per ADS), resulting in Melco International becoming the majority of owner of the company. I firmly believe that Macau remains the best gaming market in the World and a great place to invest.
'We look forward to delivering on our promise and commitment to our customers, partners, employees, local communities and shareholders as we deliver Innovating Excitement for a New Age."